Technology
How you can turn £4 into £145, transform lives and help create the solar civilisation
Lets light up Africa with the sun, and in so doing leapfrog dirty development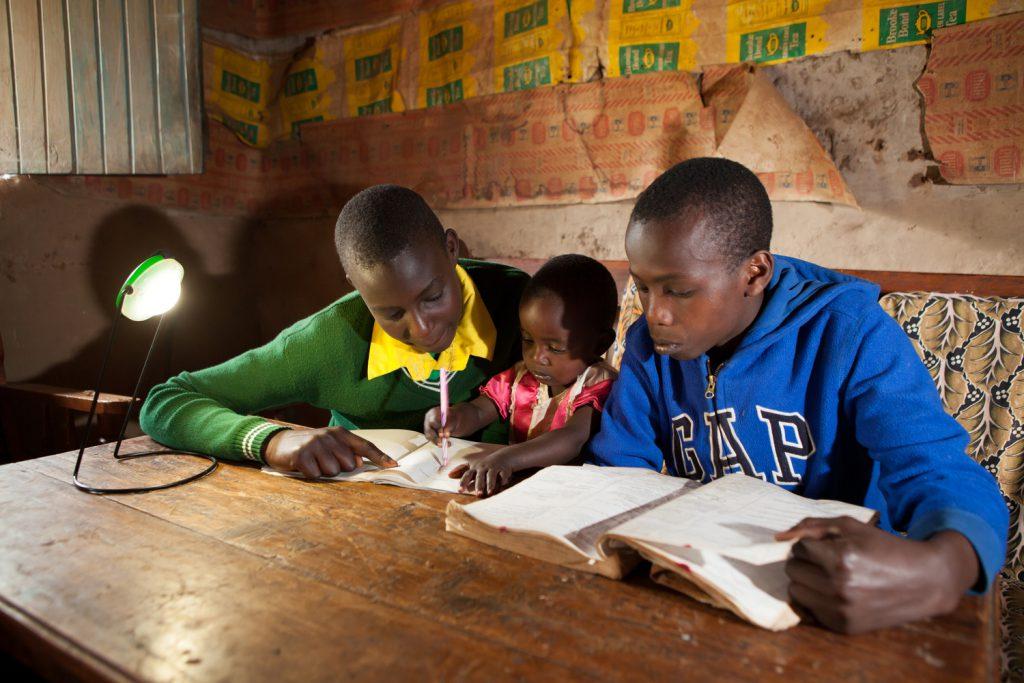 Children reading using solar lights at home, Longisa, Bomet district, Kenya
By Jeremy Leggett If you want to see the fate of fossil fuels and the prospects for clean energy symbolised in one object, you don't have to look much further than a simple solar light. One of these can replace oil use in lighting by repaying its retail price of less than £4 within weeks in the cost of kerosene no longer needed. The light goes on to save over £50 a year, according to extensive field research in east Africa by the charity I founded, SolarAid. This can then be spent on food and other necessities, creating a vital firebreak in a time of famine, and a perfect microcosm of the trillions of dollars society can save in the decades ahead by replacing oil, gas and coal with clean energy. 
The economics are beyond "no brainer" and "low hanging fruit". They are literally a licence for the poorest of the poor to scoop fistfuls of dollar bills off the ground every year. SolarAid can these days turn £4 into £145 cash for local spending on food and essentials in east Africa. On our website you can read how we calculate our costs for delivering solar lights to Africans, not-for-profit, so they can resell them, for profit. In this way, we create both jobs and big savings on oil no longer needed for burning in kerosene lamps. We know our costs of delivery are £4 per solar light based on four years of audited accounts. We know from our industry-leading follow-up research that the savings on each light sold are £145, over the 3 year lifetime of the product. (The latest quality models will almost certainly last longer than this). We further know what that £145 gets spent on ….and food and seeds are high on the list. This is a great way to help people help themselves while famine stalks the continent. We also save a tonne of carbon dioxide emissions per kerosene lamp replaced. 
How can it be, then, that global sales of quality solar lights are actually falling. Global sales rose steadily from 2012 to 2015. But in the first half of 2016, they fell 13%. In the second half, they fell another 12%. More than a billion people in our world have no grid electricity, 620 million of them in Africa. The oil industry sells them vast amounts of expensive kerosene. The rest of us manage to sell them only about 8 million quality solar-light sales a year. How scandalous is this? Surely it is one of the biggest collective failures to fix an obvious social problem. 
"All" that is needed to fix this is for channels of distribution to be put in place at scale. In my opinion, the failure to do so is mainly because most people and institutions are simply not trying hard enough. 
SolarAid is seeking to try harder. To deliver solar lights to the frontier areas where we work, we are currently overdependent on increasingly impossible-to-predict and precarious donations from large organisations: aid agencies, foundations, and companies in particular. Managing our working capital and cash-flow on this basis is - to risk an understatement - stressful. So I am endeavouring to strengthen the charity by soliciting as much of a regular and predictable donation stream as I can from individuals and communities, at scale. With such predictability of income, SolarAid could deliver many more products into the field. So please, could you the reader consider signing up for £4 - the price of a pint - each month, to get one light to Africa each month, a dozen a year? (Or more pints if you like of course!). If you were able to, and if you were able to top-and-tail this blog for a few friends - especially the wealthier ones in your circle - we would together create the chance of a virtuous pyramid of folk spreading the word.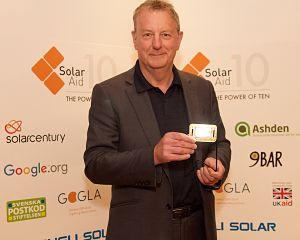 A few clicks of a mouse on our website, a single e-mail for friends / contacts, just forwarding this …or perhaps some good idea I haven't thought of! - anything you can do to help will be much appreciated. 
Lets correct this ridiculous, unfair, and shameful collective failure to do the blindingly obvious. Lets light up Africa with the sun, and in so doing show the way to a wider renaissance, based on a solar civilisation bottom up.
Jeremy Leggett is founding director of Solarcentury and founder and exec chair of SolarAid