Technology
Activists block HS2 bridge over the River Colne
"HS2 is causing devastation throughout the land... and we will not stand for it."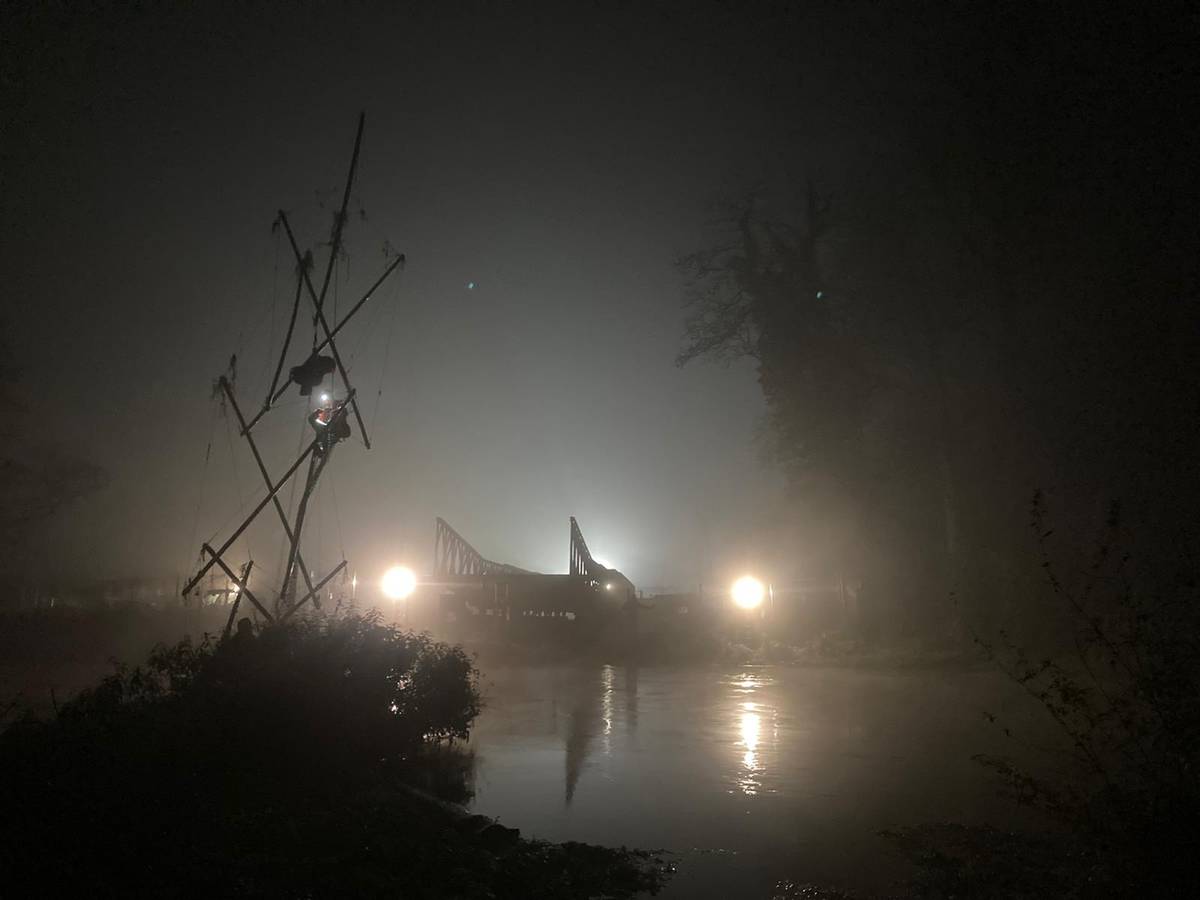 Activists against HS2 have constructed a 30 foot high 'Beacon of Truth' bamboo protest tower in the middle of the river Colne to prevent HS2 contractors from building a temporary bridge within Denham Country Park, Uxbridge, West London.
Environmental activist Dan Hooper, also known as Swampy, is up in the tower, and other peaceful protesters are gathered around the bottom of the tower.
The action is to highlight HS2's needless and brutal destruction of Denham Country Park nature reserve in the midst of a climate and ecological emergency (CEE). Activists are calling on the government to act now and stop HS2 immediately.
Dan Hooper said:
We are blocking this bridge from crossing the river as they cannot fell the ancient oaks on the other side without it. HS2 is causing devastation throughout the land and is wasting over £200 billion of public money. We are living in times of climate emergency and we will not stand for it.
The bridge, scheduled to be put across the river today, is to connect a temporary haul road which has been constructed on one side of the chalk stream to the other side, where activists have set up a protection camp to halt work, monitor and report wildlife crimes and bear witness to HS2's ecocide of the priority habitat wet woodland. Environmental protectors are facing intimidation tactics from HS2 contractors on a daily basis and fear eviction may happen in the near future.
Since June, HS2 has been ripping up precious woodland and felling ancient trees in Denham Country Park, to clear the path for an access road to relocate power lines and build a new electricity pylon. The public nature reserve is a designated site of scientific interest (SSSI), vital to biodiversity and home to approximately 2000 different wild species.
Sam Smithson, an environmental protector, said:
Every single day we are witnessing the landscape drastically changing, HS2 is felling trees and irreparably destroying nature before our eyes. We're in a global climate emergency. HS2 Ltd. and the UK government are implicit in mass ecocide crime being committed. This is a non-violent peaceful protest and we will continue to do this until the government takes its own advice by acting now to stop biodiversity loss which means stopping HS2.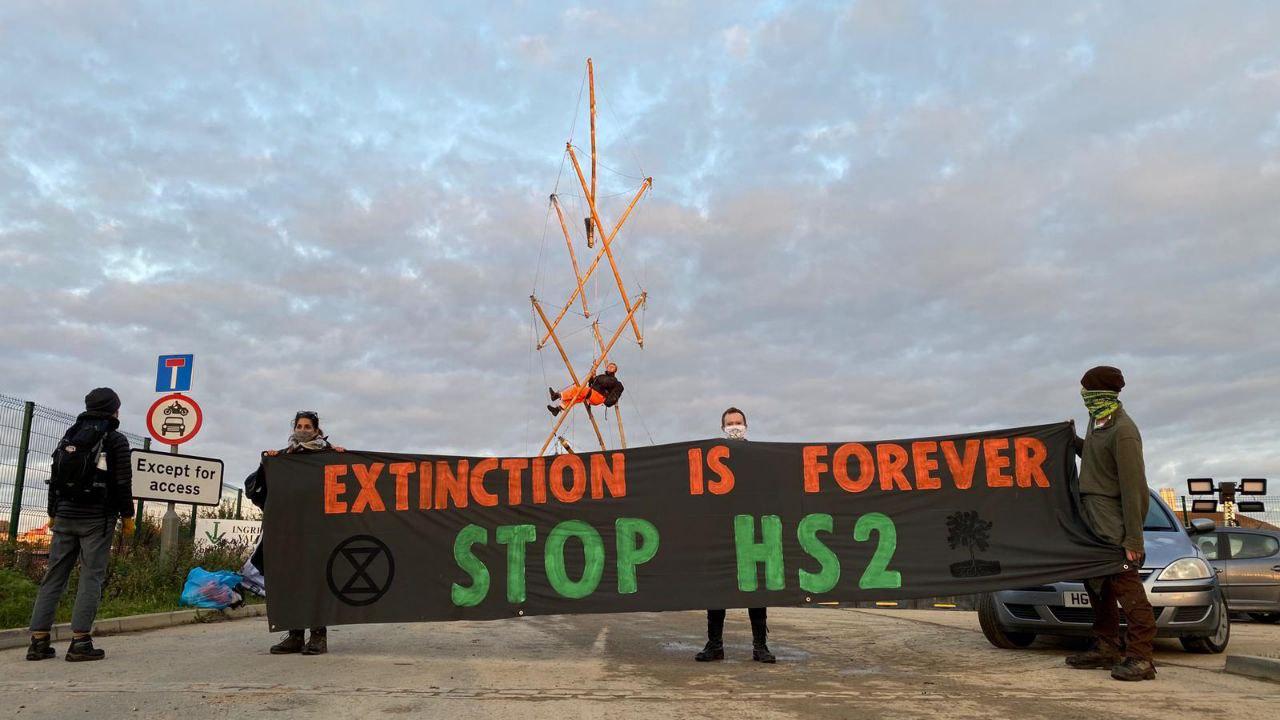 This needless destruction of irreplaceable habitat is happening over a mile away from where the High Speed Rail line will be built, and is totally avoidable. An alternative plan for the relocation has been highlighted to HS2 which would avoid destroying the wet woodland, be cheaper for the taxpayer and better for the environment. HS2's permit from Natural England allows the clearance, only if there is no less ecologically-damaging alternative for their construction work. Yet HS2 continues its ecocide in the nature reserve - and are pumping concrete to lay the foundations for the 'temporary' access road. Denham country park is a flood mitigation area, and the temporary access road will increase flood risk for downstream communities in Uxbridge and Stains.
Environmental protectors and independent ecologists have been gathering evidence relating to potential wildlife crimes. Independent ecologists surveys have documented clear evidence of water voles, a priority conservation species, in areas impacted by HS2 at Denham, and highlight that HS2 surveys have been inadequate and no water vole licence has been gained. Activists have seen potential bat roosts stuffed with newspaper and expandable foam to prevent bats roosting in ancient oaks HS2 are felling - and shining bright flood lights to deter them at night.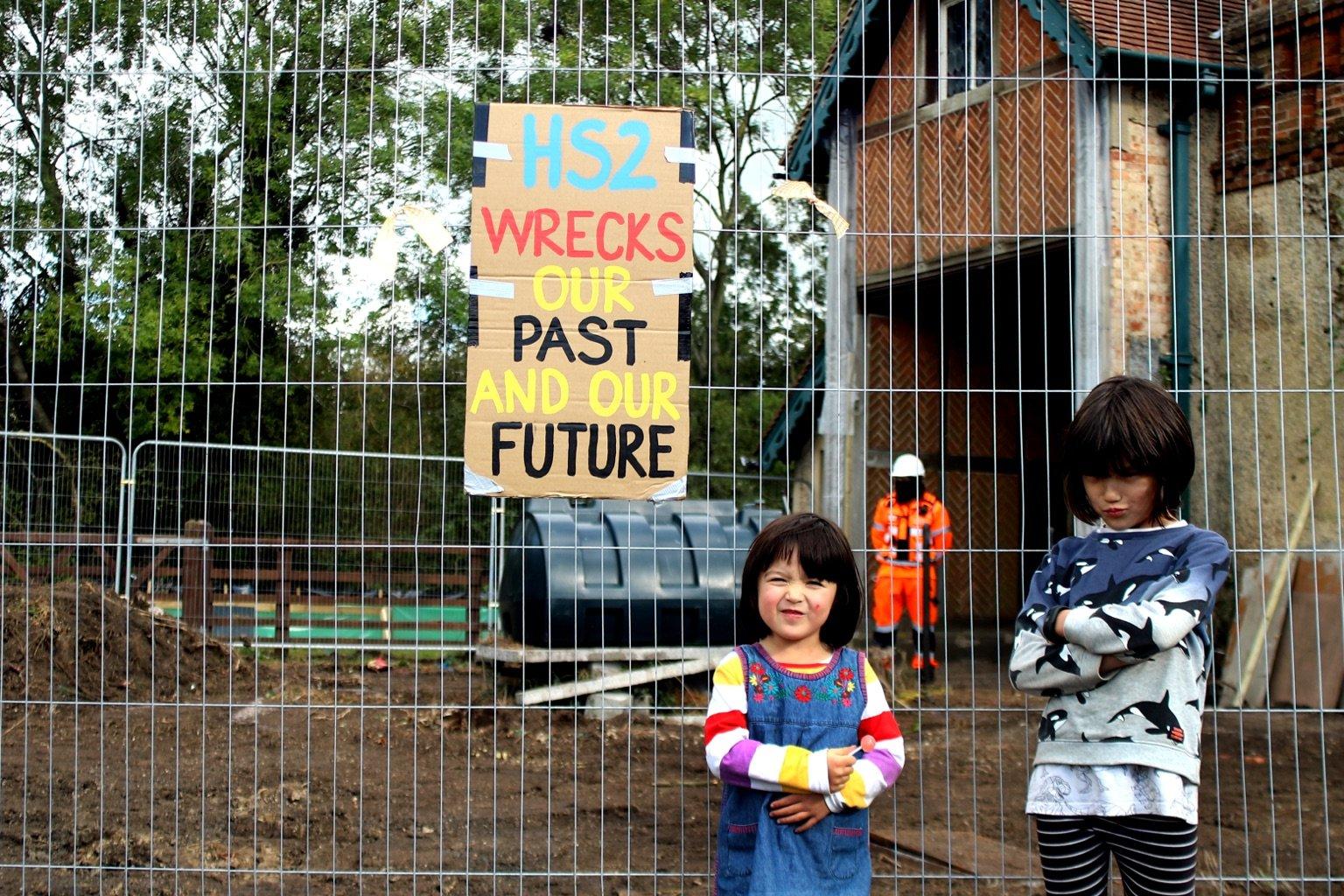 The clearance for the haul road is tearing through bird nesting habitats, dormouse habitats, otter habitats, and potential bat roosts in mature trees. HS2's disregard for wildlife is reflected up and down the line where wildlife laws have been flouted by HS2 and wildlife crimes may well have been committed. Campaigners are urging local authorities to call HS2 to account.
This area saw much attention over the summer. In July the National Eviction Team and Thames Valley Police (TVP) endangered the lives of brave defenders who were protecting an ancient alder tree due to be felled to construct the bridge by cutting the safety climbing ropes of a walkway between two trees over the river, causing peaceful protesters to fall 25 feet into the shallow river bed, both were injured with one taken to hospital]
In a post Covid-19 world with less people travelling for business, any justification for the contentious high speed rail project, which was highly questionable before the pandemic, is rapidly disappearing, and is included in a major parliamentary inquiry rethinking public transport in the wake of the pandemic.
Prime Minister Boris Johnson announced plans for a joint UK-UN COP26 launchpad event taking place on December 12th, marking 5 years since the Paris Agreement, stating that 'the UK will lead by example'.
Yet, in the midst of a climate and ecological emergency, the UK government is ploughing ahead with the the most expensive and environmentally destructive infrastructure project in UK history. This Government project, by its own admission, will never be carbon neutral in its 120 year lifespan, will enable mass airport expansion and is tearing through irreplaceable habitats evolved over hundreds of years, and oases of biodiversity in a wild-life depleted country. HS2 delays any plans for the UK to reach net zero by 2050. HS2's expenditure is out of control, with estimates that it could cost the UK taxpayer more than £200 billion where money is clearly needed elsewhere.
With public outcry against the project increasing on a daily basis, campaigners are pleading with the government to 'lead by example', back the CEE Bill and stop HS2.