Nature
You could live in this dream eco home for less than the price of a 1 bed London flat
Extraordinary and exemplary Earth Ship with land in Wales on the market now and available to buy
This extraordinary and exemplary eco home (hobbit mansion), surrounding lands and greenhouses are on the market and available to buy now. Offers above £250k will be considered. Read on to find out more…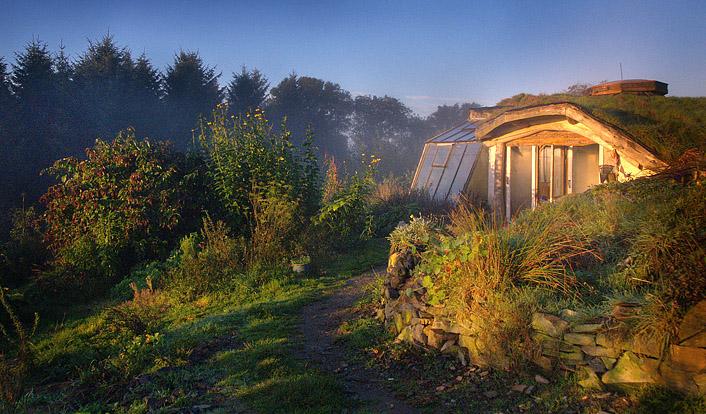 All photos by Simon Dale __©
Living the Wild Dream in an Age of Control
We live in a time of unprecedented uncertainty, a crossroads for the future of humanity. We can no longer believe the news, governments or the claims of science or religion and yet we must carry on and do our best. Ours hearts and minds crave beauty, genuine connection with the earth and the space and opportunity to help regenerate our ecosystems and culture.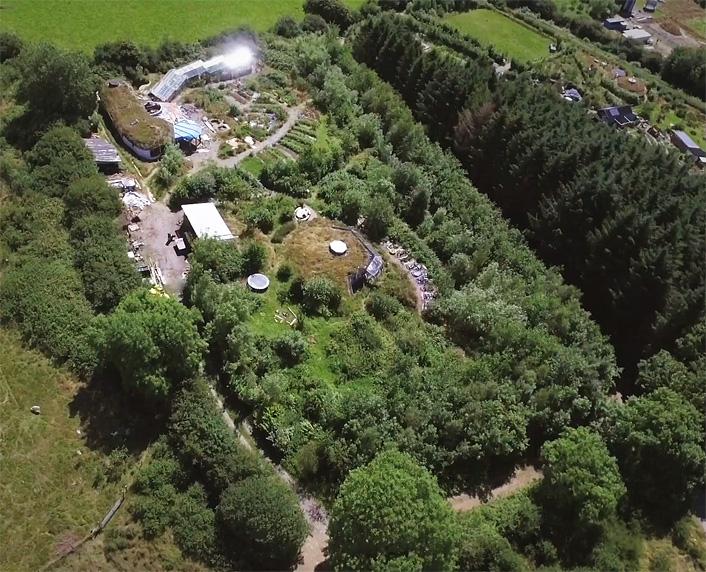 Wales made a unique choice to legalise living simply on the earth in exchange for enhancing biodiversity, building naturally and living with the land. A dream come true for us, to transform bare, denuded fields into a biodiverse haven. The chance to source hydro-electric from the river, drink fresh spring water and exercise response-ability for our impact on the earth.
This is our story
It took many years to receive consent to make our smallholding in Wales, throughout that time we lived nearby and carefully observed the landform, water, wind, sun and soil of our windy, empty fields. This waiting, though frustrating, proved a treasure as by the time we moved into our tent and began tree planting and building, we had cultivated an embodied awareness of this place.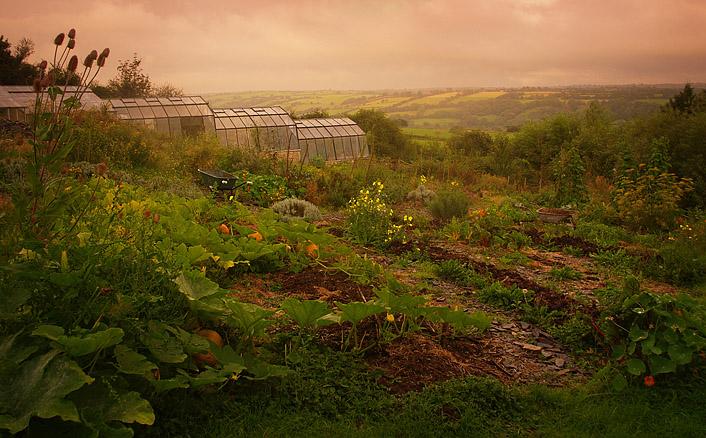 Our dream of restoring natural processes and species also required us to grow food, firewood, make a livelihood and build all the infrastructures to make this possible. This meant creating dwellings from timber, stone and subsoils at the site. Within months of arriving we had built a warm, dry, carbon neutral roundhouse set into the hillside for protection and warmth. Setting up basic services, such as a network to bring spring water to the homes and refurbishing the hydro-electric turbine, took lots of expertise, man hours, finance, sweat and love.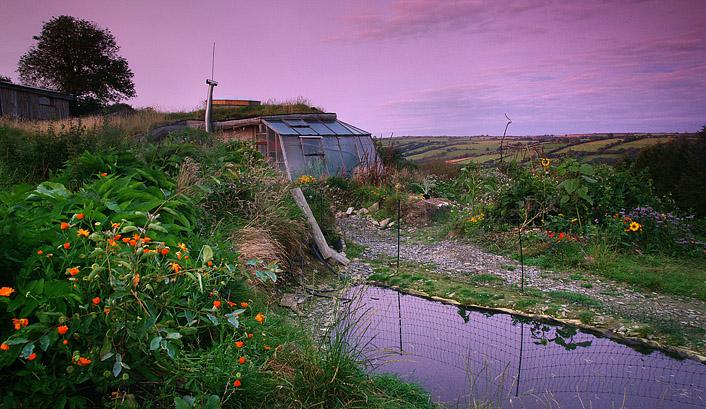 Bringing the land to life
Personally, my priority was to catalyse the natural processes laying dormant on this land, seemingly bereft of life, and create sheltered micro-climates from the heavy winds and rain. Plants and houses benefit from protection from strong winds. Food gardens need complex beneficial relationships to flourish and be resilient to pests, disease, drought, cold and heat. The imperative therefore was to establish biodiversity.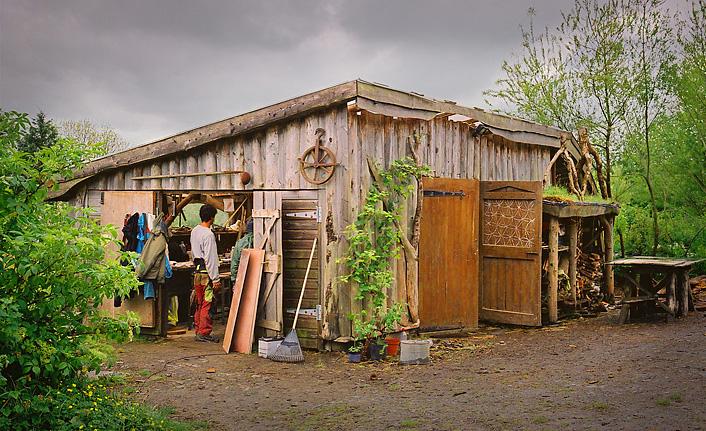 With a great respect for nature, we were humbled by the enthusiasm and intelligence of natural systems to come back into equilibrium with just a little input from us humans. The first year, saw the proliferation of insects as the grasses went to seed and meadow herbs we'd sown took root. The air came alive with insects, butterflies and bees, soon followed by birds. We let hedges sprawl and supplemented them with wild cherry, elder and autumn olive. Allowing natural succession of thorny scrub, such as gorse and blackthorn and bramble, created safe nesting sites and an extensive habitat corridor. By adding edible species for our harvest, and actively creating organic matter and valuing deadwood, we saw the explosion of diversity and beginnings of food self-reliance.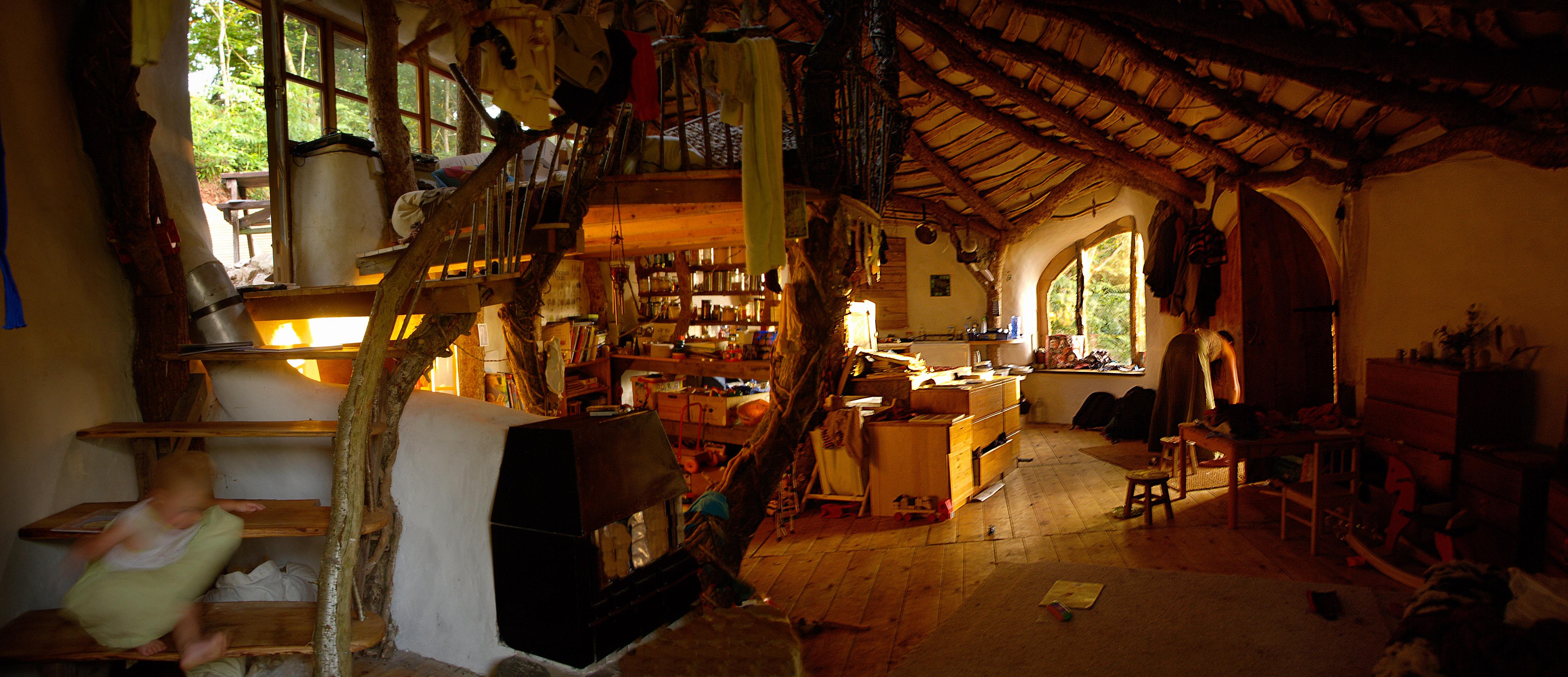 Tree planting
By year 3, we'd planted nearly a 1000 soil repair trees, creating a sheltered microclimate. Hundreds of fruit bushes from cuttings, now yielded tens of kilos of fruit. Around every cultivated area we encouraged wild edges of yarrow, foxglove, dandelion, St John's Wort and comfrey. We filled in every gap with edible perennials, such as wild garlic, mints and strawberries, and marvelled at the living, breathing network of life around us. The soil was deeper, darker and teeming with earthworms. Natural predators such as hoverflies, beetles and ladybirds arrived to keep aphids and slugs at bay and every stone or log harboured a toad sitting silently beneath it.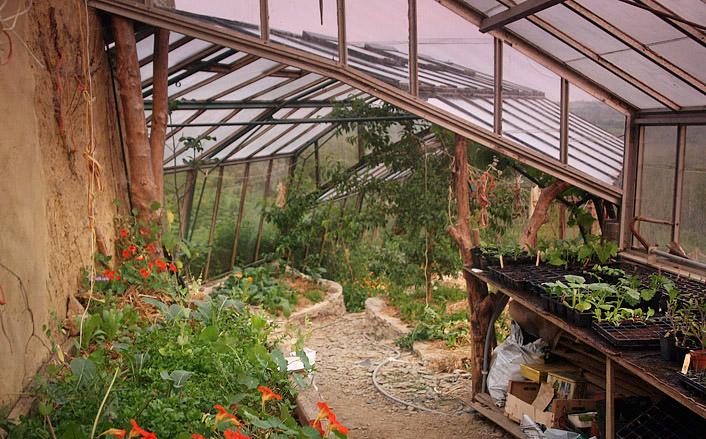 The hobbit mansion and greenhouses
Around 2013 we started building our main house, a hobbit mansion, intended to last for generations, carefully designed to withstand whatever climate extremes might come. Huge glasshouses were skilfully constructed to heat it, in which grapes, peaches and vegetables thrived, providing food all through the winters too. Over 400 people camped with us over the years to help build and beautiful memories of that time are treasured. On New Year's Day 2018, the house burnt down in a freak accident before completion, since then we have reassessed everything and decided to have a fresh start. However rewarding the process has been, we are exhausted and our children at an age where embarking on rebuilding is not an option.
So here we are 18 months after the fire. We offer this haven for sale to the right people. Providing your own water, firewood and electric means work and also has the deep reward of taking responsibility for your own needs and knowing that it does not harm others. Being in close relationship to the seasons, growing food and witnessing nature's reciprocity is a precious gift in these troubled times.
A more detailed description of the property is on www.beingsomewhere.net