Nature
New Networks for Nature: a celebration of wildlife happening this week
Major nature conference exploring a diversity of responses to the natural world starts on the 31 of October in York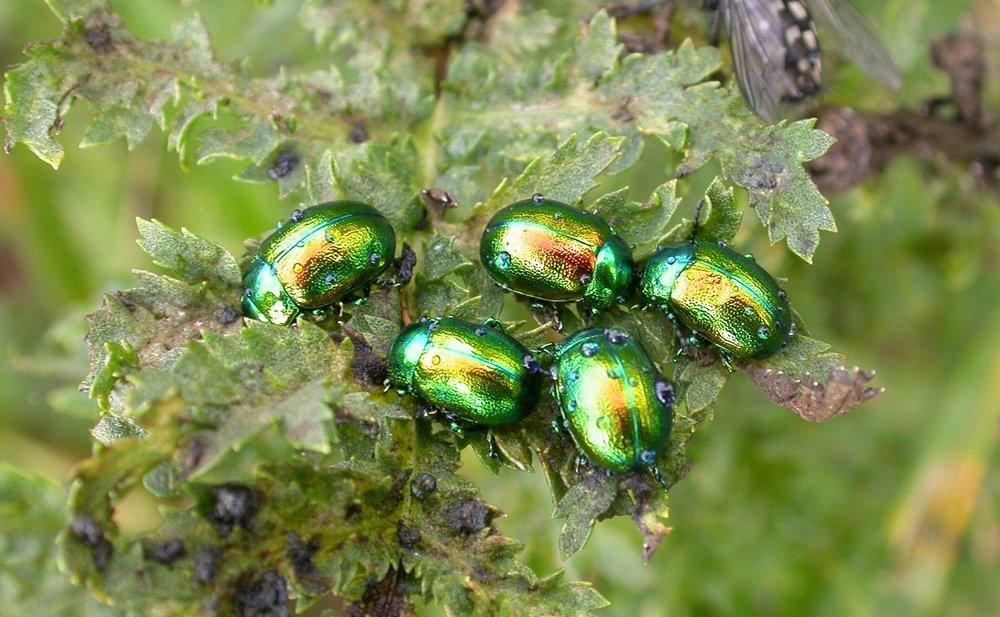 Tansy beetle - photograph by Geoff Oxford
A networking event extraordinaire, New Networks for Nature brings together environmentalists of all stripes from across the country. Writers, scientists, musicians, visual artists, academics and campaigners are meeting for three days of green, mind-expanding talks and performances, from 31 October until 3 November. Now in its 11th year in York, this major nature conference promises 'a northern flavour' for the first time, and several other firsts amongst the most diverse line-up yet.
'Time for Nature' is the name of Nature Matters 2019. Deep time travel provides the backdrop for urgent questions of care and conservation; taking lessons from eco-archaeology to inform present day crises, whilst keeping a 'weather-eye' on the future. Delegates will be getting out of the classroom too, exploring the distinctive landscape and wildlife of York. The conference kicks off on Thursday with an excursion to Askham Bog, a patchwork of fen, woodland and meadow on the site of a retreating glacier 15,000 years ago. For early risers, peregrine spotting on Saturday morning should sharpen the senses.
And then, merging outside and in, wildlife and urban environment, there's the brilliant new eco art mural to visit. The 'Jewel of York' celebrates the recovery of the iridescent tansy beetle; these precious bugs were facing extinction in the UK, clinging on to the swollen banks of the river Ouse until local conservationists intervened and their numbers rose. The mural joins other large-scale paintings of endangered animals by amazing street artist ATM, instantly creating a new landmark for York. It's one which writer and New Networks curator Dr Amy-Jane Beer sees as 'a timely reminder that nature has a rightful place in our city.'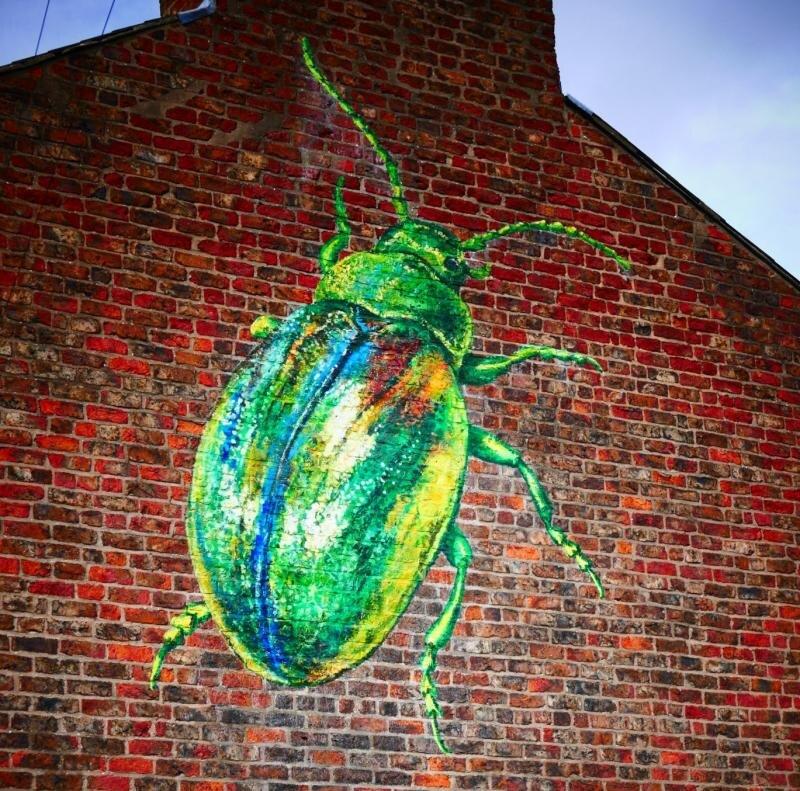 A new mural in York by ATM
What else is new? Well, there's the first full-length gig, by folk musician and 'singer with nightingales' Sam Lee and friends. A prominent member of Extinction Rebellion affiliated Music Declares Emergency, Sam was keeping rebel spirits high at the October rising in London. It's hard to believe it's been only a year since XR formed on 31 October 2018, and NNN provides a space to reflect on that progress, as well as connecting campaigners from movements old and new. Kitty Macfarlane is also performing from her gorgeous folk album Namer of Clouds – with light soundscapes inspired by her home turf of Somerset.
The programme mixes established environmentalists with emerging talents – freshening a symposium that, in its early years, brittled a little male, pale and stale – mirroring the worlds of conservation and nature writing in general. So, a debate entitled 'New Directions for Nature Writing' continues an important conversation about who gets to access and write about nature, and the need to amplify underrepresented voices. Zakiya McKenzie, one of the Forestry Commission's new writers in residence and organiser of the Green and Black Initiative in Bristol, is an exciting panellist and writer to watch out for.
'Time for Nature' is a call to arms, and a debate entitled 'Fighting for Nature' makes it clear what networking is ultimately in the service of: politically elevating and protecting Britain's ecosystems. Yet there's a thread of silliness too, and a trail of creepy crawlies. 'Sailing spiders… LIVE!' shows how far spiders can travel by using their silk as a sail in the wind. 'Dirty' flies and Atlantic Beach-crickets join brighter tansy beetles under the microscope, woven round a discussion on using humour to talk about nature with the founder of the Ugly Animal Preservation Society (who'd know). These events are not simply intended to provide light relief, but spotlight some unsung heroes of biodiversity, and engage the audience with creatures great and small.
As co-curator and Features Editor of BBC Wildlife Magazine Ben Hoare told Ecohustler: 'Hopefully there will be something new on the programme for everyone who comes, whether it's music, comedy, protest, writing, science or art. And hopefully everyone will leave having had inspiring conversations with people they have never met before. It's all about making new connections in a spirit of togetherness.'
Speaking of the focus on diversity, Ben continued, 'Amy and I wanted our York event to be the most diverse yet in the 11-year history of New Networks for Nature. Gatherings like this – which are not affiliated to any other organisation and beholden to no-one, and are put together on a not-for-profit basis by volunteers – seem more important than ever as we try to find new ways to explore and connect with nature.'
---
Got your ticket for Nature Matters 2019? Let us know @Ecohustler
Or check out the full NNN programme for some unknown names, and a blueprint to send you spiralling off on new networks of your own.