Nature
How connecting to nature made me feel total joy
Following a breakdown and depression, a break from work and time on a sustainable community growing food transformed Tallulah's life
Break down
It was spring and I was lost. The daffodils came up but I felt no joy. I was living in a van in the city and working as an illustrator. My workplace was my laptop. I didn't want to be in the city, I deeply didn't want to, but I couldn't see what else I was going to do. My mind had shut off any alternatives, as if there was only one course of action and that was to carry on what I was doing even if it made me miserable.
Eventually the van broke down, and so did I.
From a place of emptiness some glimmer of desire came and it was to work outside with people. I booked a week of WOOFing at Brithdir Mawr in Wales. Brithdir Mawr is a sustainable community with about twelve members, it's been going since the 90s. People live together and eat together and work the land. I was drawn to the simplicity of this way of life, and I was curious to see what it was actually like.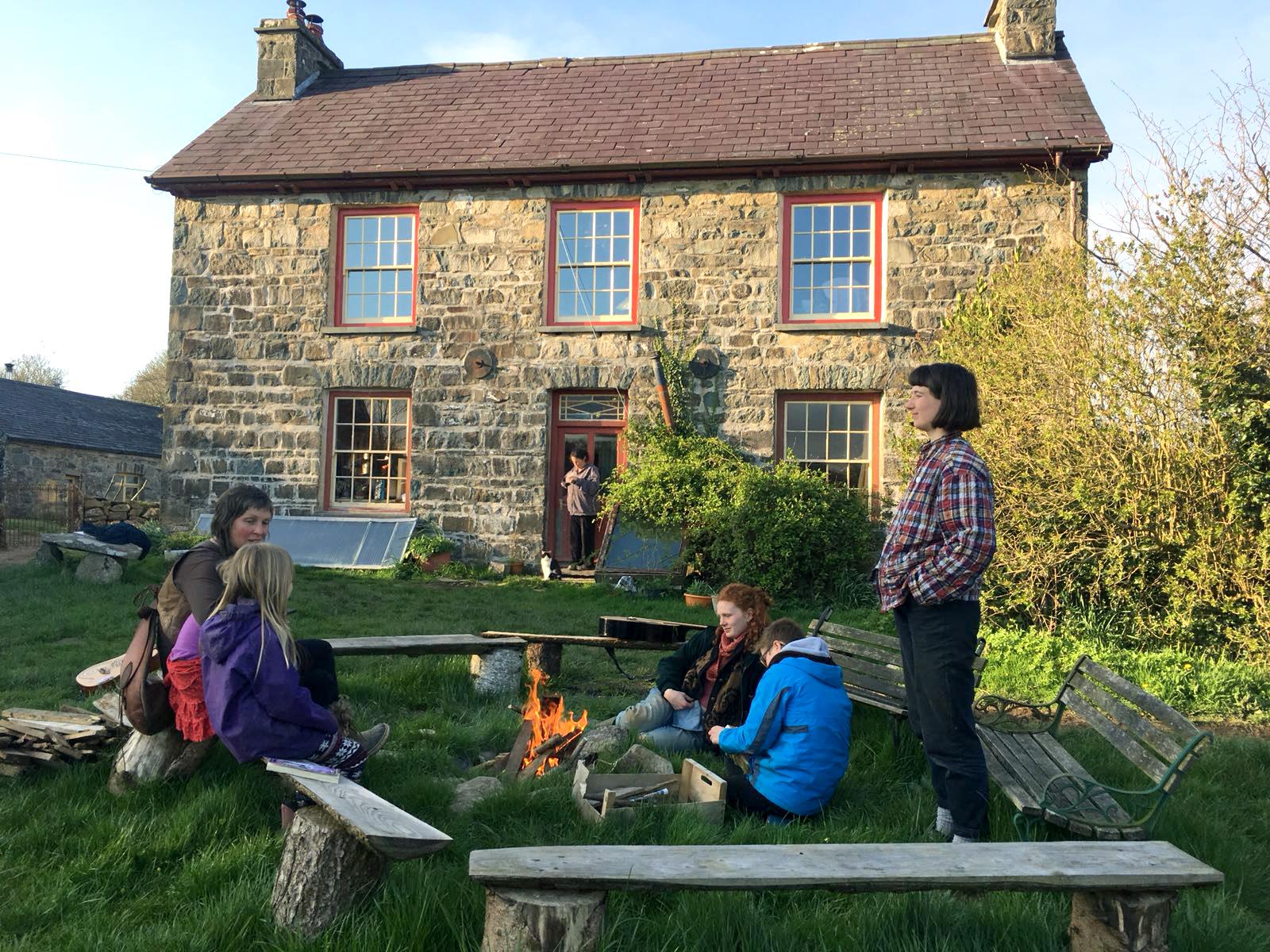 Me on the right, feeling pensive - photo credit Maja
Brithdir sustainable community in Whales
At first it seemed austere. I arrived at night after driving through dark empty hills. The farmhouse was grey stone with flagstone flooring and a wartime feel, shelves of jars and tins and other supplies. But the kitchen was cosy. Yellow walls and a wood-fired range, with a table made out of huge waney-edged pieces of tree. I was shown to the volunteer quarters, in an outbuilding, where there was a stove and space for six of us to sleep.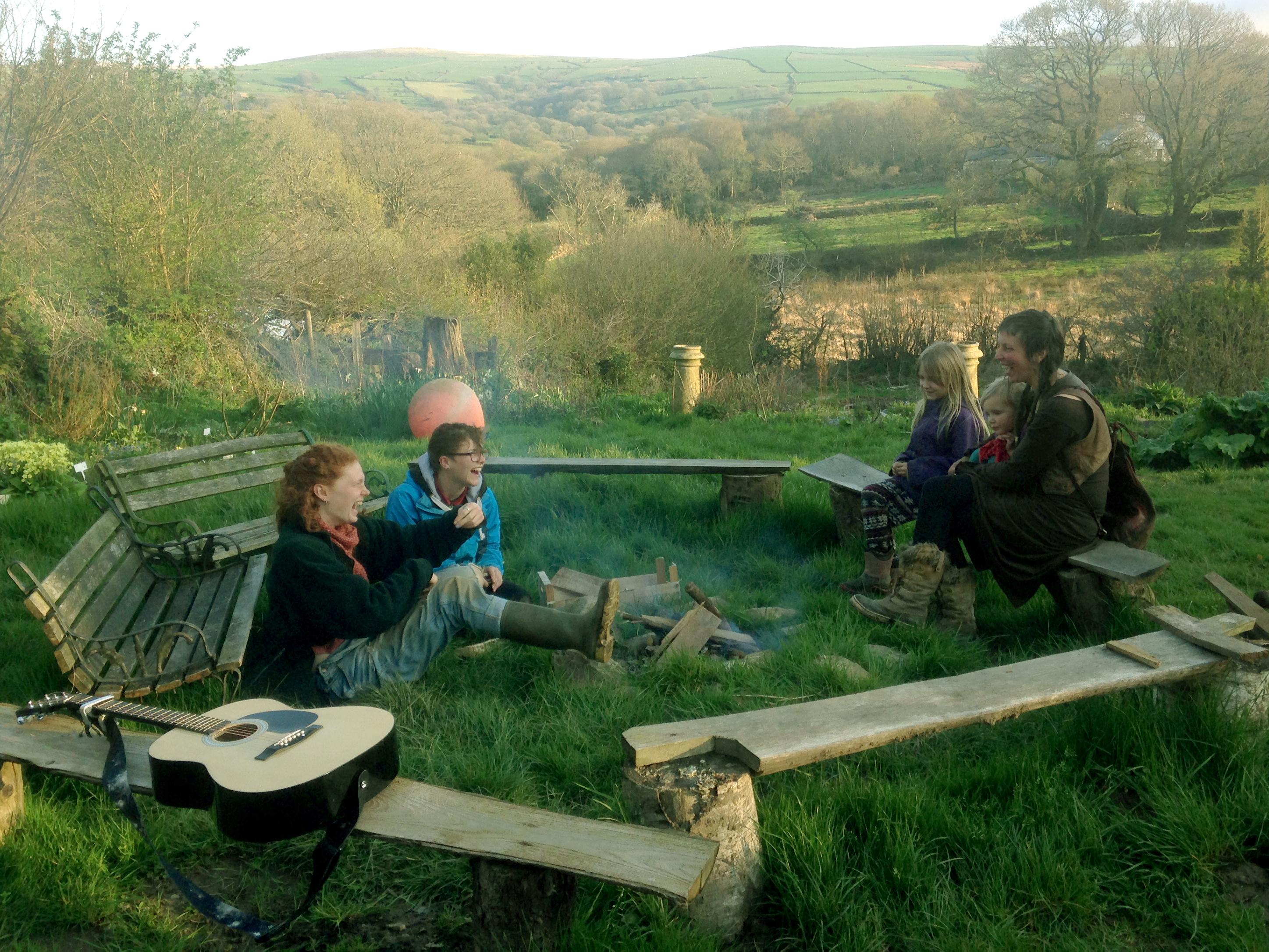 Evening fire photo by Tallulah
By chance, we were all women, ranging in age from 20 to 64. We got to know each other quickly, without the usual hesitation. We had all come to this special place at the same time; that was enough of an introduction. We had our different reasons. Some of us wanted to learn about how to live a more environmentally-friendly life. Some were considering joining a community. The younger women were experienced WOOFers, the older woman wanted an adventure.
Blockages
The work was hard, harder than I'd expected. Digging potatoes for hours in the rain. I was unfit, my arms were feeble. I looked forward to the breaks. I was much less fit than Tony, the oldest member of the community who'd been there since the start and had a bushy white beard and wore his flannel shirt tucked into his high-waisted jeans. Living here for so long, he probably had no idea how trendy he'd become. I liked his wrinkly eyes and his reserved but direct manner. The farm was like him, unpretentious.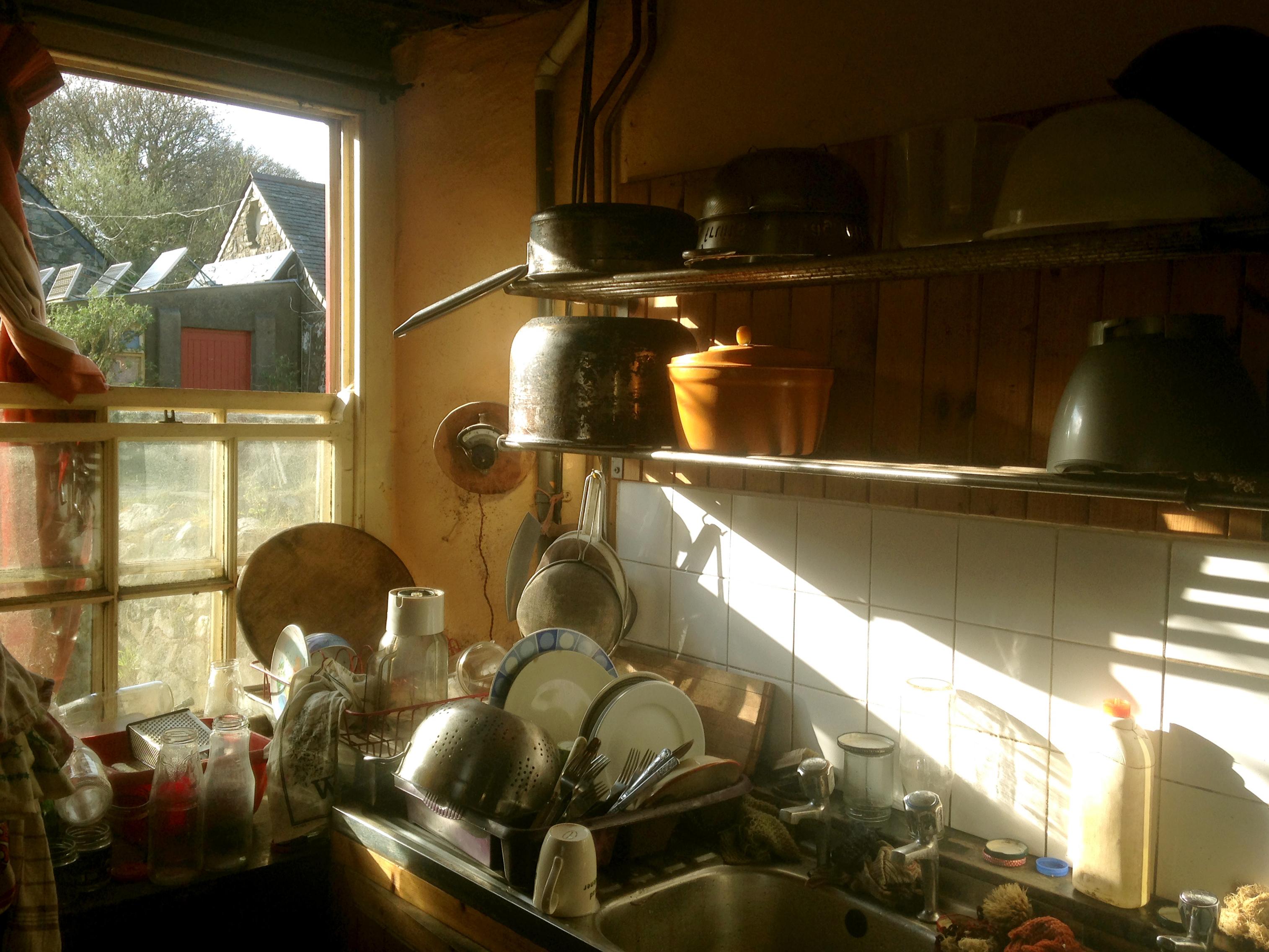 The kitchen window - photo by Tallulah
There was also a family living there, with little girls who were home-schooled and ran wild, full of brightness. Their vivacity made me aware of my own sadness. Willow was six and she knew she could be anyone she wanted to be. I saw the density of my blockages, but I didn't know how to shift them.
Breakthrough
On the third day I decided to walk before supper. I asked one woman how to get to the top of the hill I could see poking out from behind trees. She gave me directions, but said that it might take some time, so there was a different, shorter walk I could take instead. I stood at the crossroads between the two. One led up the hill, the other went around fields. I chose the hill, and it was like taking off a heavy jacket I'd been wearing for a very long time. Suddenly my legs had energy. I powered straight up to the top, not minding about paths or directions, through dense springy heather and treacherous boulders covered in lichen.
The wind whipped around me at the summit. I could see the sea, and the town of Newport tucked like a horseshoe, and the nestled space of Brithdir Mawr. In the woods, a tall conical thatched roof poked above the trees. A Neolithic roundhouse I'd heard called the Spirit House.
I began to see again. It was as if climbing the hill was some kind of initiation. The landscape and the farmhouse and all the inhabitants began to fill me with joy. I understood how fulfilling it would be to live a life with a shared purpose, intimately linked with the land. I became conscious of my isolation, where although I saw friends it was only to meet up while we went about our separate lives. The days of hard outdoor work had done me good, too, after my sedentary laptop days.
It was a shock to realise the things I'd thought were important, weren't. It didn't matter how well I did in my career, or what anyone else thought of me. There was a happiness that was deeper and more real than that. I realised how much of modern life was geared towards the attainment of things that actually made nobody happy. Why didn't school teach me the important stuff? I was seeing everything from a different angle, as if I was a tree that had been turned upside down in the soil so my roots became my branches. I didn't know how to make sense of it.
Was I crazy, or was the world?
View from the farm - photo credit Maja
Oak trees
A kind woman, the mother of the little girls, came across me crying in the courtyard. I couldn't explain why I was crying, but I couldn't stop, either. She told me to go to a grove of old oaks, saying it was where she always went when she felt this way. I walked fast with my head down and when I got there I flung myself onto the ground and sobbed loudly. The question in my mind was, how am I ever going to shift the layers of sadness I've gathered all these years? How will I ever right the wrongs of living a life that was so against my instincts? I felt that over the years I had become misshapen and I wouldn't be able to grow straight again.
From this place of wretchedness the oaks came alive. They were around me, twelve old beings, watching my sadness the way they'd watched many others before and would since. My suffering was not unique, it was very human. I saw the crookedness of their branches, how stones and wind had contorted their shapes, yet they were no less for it. In fact, that's what made each tree itself.
Connecting to nature made me feel total joy. I realised, I have not felt this way since I was three years old. I am entirely connected, a being among beings. I am home.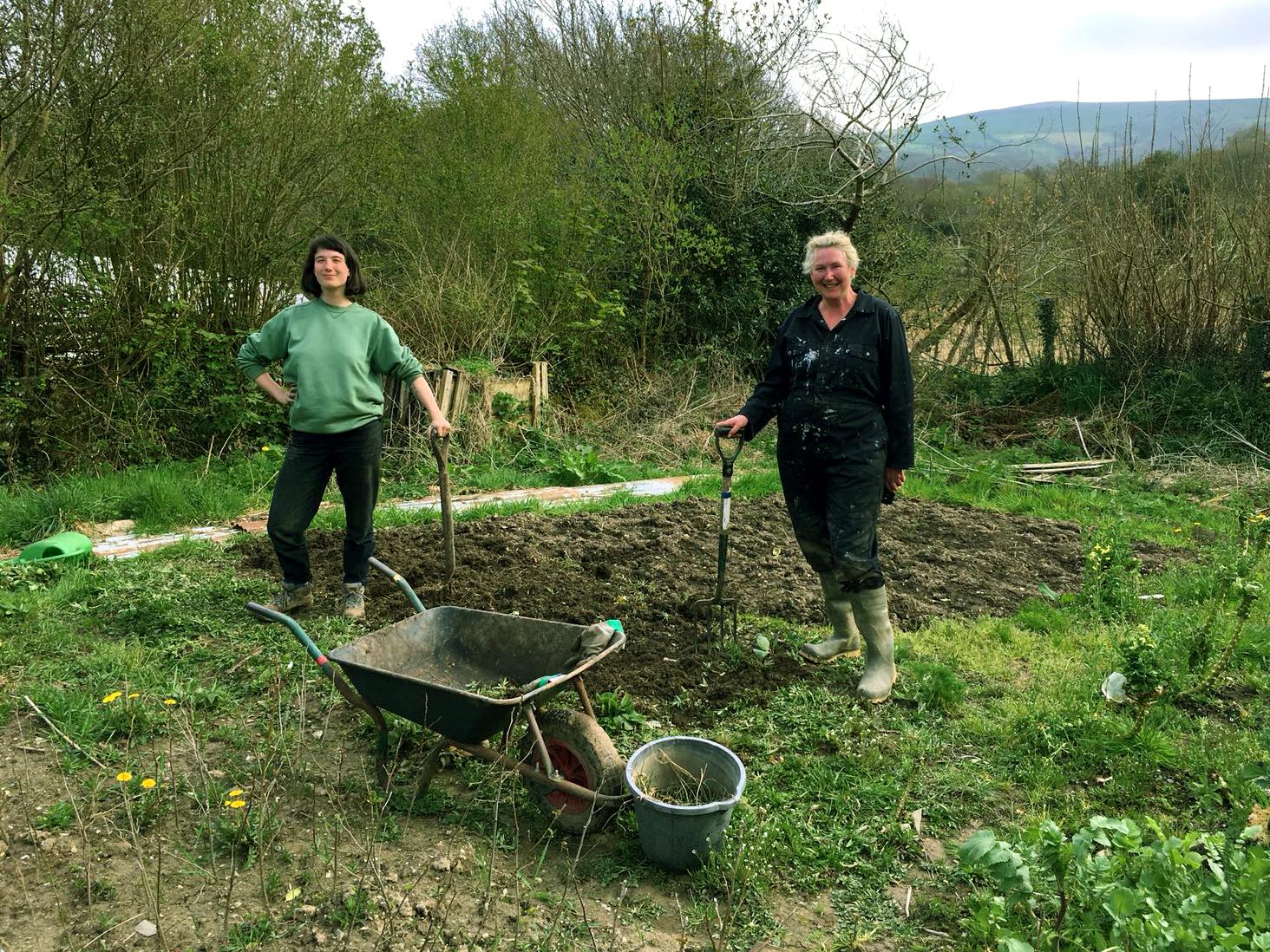 After a hard day's digging - photo credit Maja
It will be alright
The community at Brithdir Mawr was no idyll. Life was hard, made harder by the looming threat of the owner wanting to sell the land. When there are wealthy people looking for picturesque Welsh holiday homes, it's not easy to hold onto something idealistic which generates no income. It was expected to go for £1m, and the members of the community were stressed by the prospect of having to raise this much money. Differing views made fractures begin to appear. Some wanted to make huge changes to generate more income, others found it hard to give their all when it could be over soon.
Tony thought everything would work out alright. I could see that living this way would never be simple, especially because it goes against how society works as a whole. I left at the end of the week, uncertain whether the community would continue, and uncertain too of how I would make the changes I needed to in my life. I didn't know how to explain my experience. It sounded crazy, and I wondered if it was.
Over the year since that week, I've slowly accommodated the shift in perspective. It hasn't been easy, since I just wanted to fit in, and do what everyone else in their early twenties was doing. The connection to nature seemed to trickle away. Illustration work started coming in, and I said yes, because it was what I knew, and soon I was hunched over my laptop again. But I began to meet people who felt the same way I did, and my confidence grew.
Not long ago I was in Wales once more, for a week in a pink cob house with seaweed baths and nettle soup. My idea of heaven. On the way back I visited Brithdir Mawr. Things had changed, but not in the way I'd feared. Some members had left and new ones had arrived, with a sense of optimism. One woman said, as she prepared dinner on the wood-fired range, that she'd moved in knowing it might all be sold in a year's time, but she was going to give it everything she had, and if it worked out, great, but if it didn't, that wasn't a problem either, they'd go somewhere else. Tony leaned back on the sofa with his bony arms behind his head.
See, he said, I always knew it would be alright.
***
Find out more about  living and learning on an [organic farm worldwide here]( live and learn on organic farms worldwide).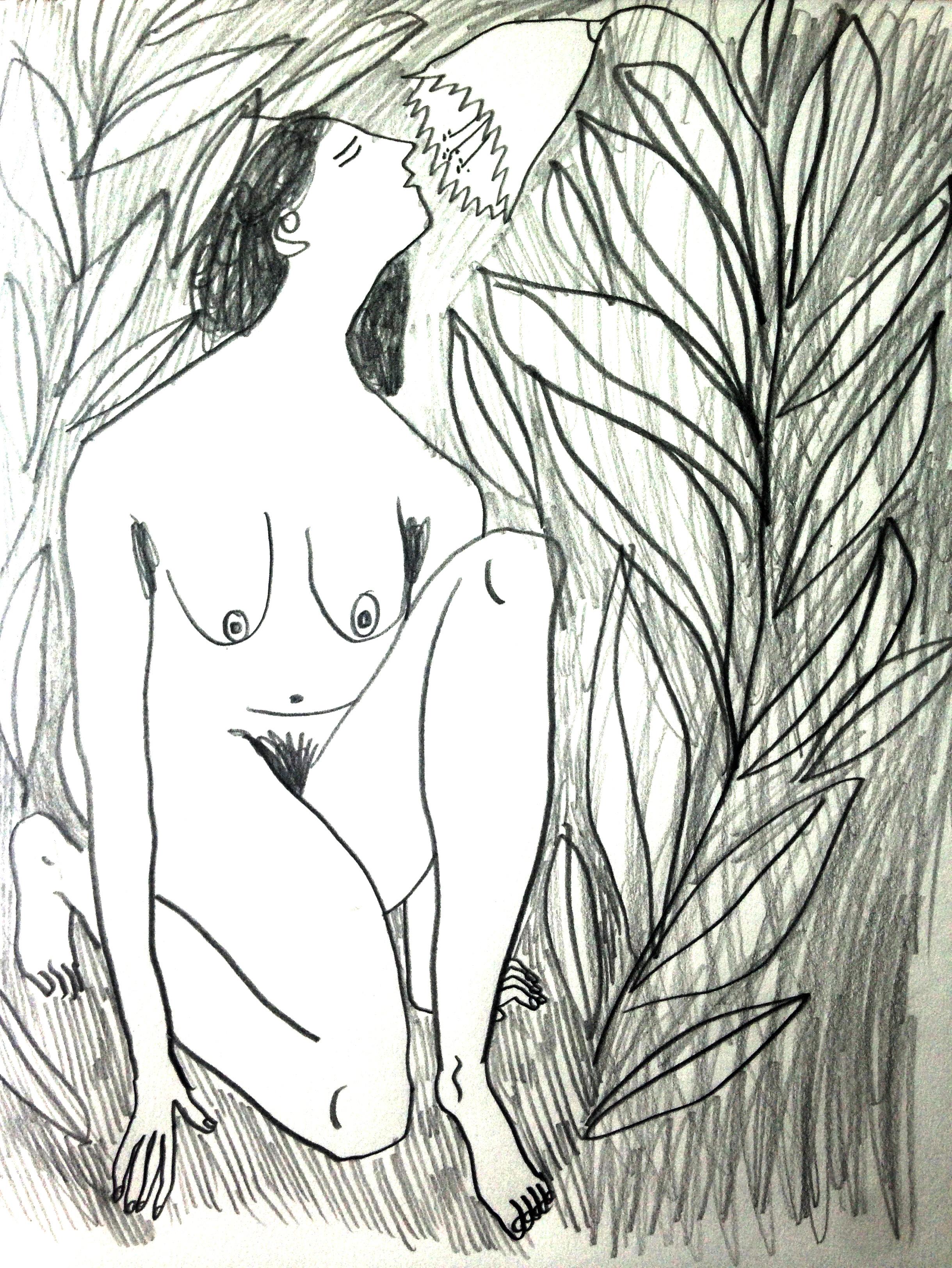 Nature immersion by Tallulah