Nature
"Heart explosions of joy": 5 eco photographers at work
Exploring photography's power to connect us with nature
Mary, Paul and Heather. Scotland, 1970. Credit Linda McCartney
Linda McCartney
At the Linda McCartney Retrospective at the Kelvingrove, there's a small enclave dedicated to her love for animals. Across three white walls, we see photos of the pets who were major characters in the McCartney's lives, including leaping horses – bodies held in arresting, energetic shapes. Or Lucky Spot in Daisy Field: the horse lost in thought in a sea of daisies. These are juxtaposed with black and white shots McCartney took at fish and meat markets – gaping mouths, lamb's heart, sugenoic lumps.
In fact, the spirit of animals pervades the exhibition as a whole. There is a magic to Linda's weaving of family scenes with the lives of animals, under a wide Scottish or Sussex sky. There's a winning authenticity to pictures of the McCartney children growing up with a free range of expression; Martha the sheepdog at their muddy feet, under two beacons of creativity. Linda's work is a prescient form of what could be called 'eco photography': capturing the connections between animals, environments and people.
McCartney's animal rights activism and environmental campaigning is well-known and succeeds her in various ways. Linda McCartney Foods is now fuelling a new generation of activists on vegetarian sausages, whilst daughter Stella lights the way in sustainable fashion. Evident in Linda's photography is the beauty of animals, a sharing of space with animals and a non-violence towards them. How is this continued in artists' work today?
Is eco photography a way to reposition and connect photography fields, mountain ranges, deep dives, visual artists and bird snappers? A prompt to reconsider humans' central role in the natural world? Have a wander through this talented collection, and let us know what you think.
The Linda McCartney Retrospective is on at the Kelvingrove Art Gallery and Museum, Glasgow, until 12 Jan 2020.
From Martha my dear to Mongolian wild horses...
Krystle Wright
An adventure photographer on a quest to capture moments from extreme expeditions around the globe, Krystle works on a scale sure to expand anyone's world view. Even in precarious positions, she stays alert for the subtle actions that illuminate connections between the human and non-human world.
She describes the joy of photographing animals in faraway places:
The opportunity to have experienced wild places has allowed me to be immersed in environments where there are no barriers between myself and the wildlife. The lesson has been reinforced where every time it is in the power of the wildlife that they choose whether they wish to interact with me or not. And I can guarantee you that when I have experienced that spontaneous connection, there is nothing quite like it! I describe it as a heart explosion of joy!
But with the privilege of encountering wild animals in their habitats comes serious responsibility. Krystle cautions, "What I worry about, particularly with social media, is that too many people have a great expectation to force these connections and disrespect our wildlife all in the name of narcissistic behaviour." National Geographic's recent investigation into the darkside of wildlife tourism is eye-opening in this regard, showing the appalling lengths some people will go to get a cute animal selfie.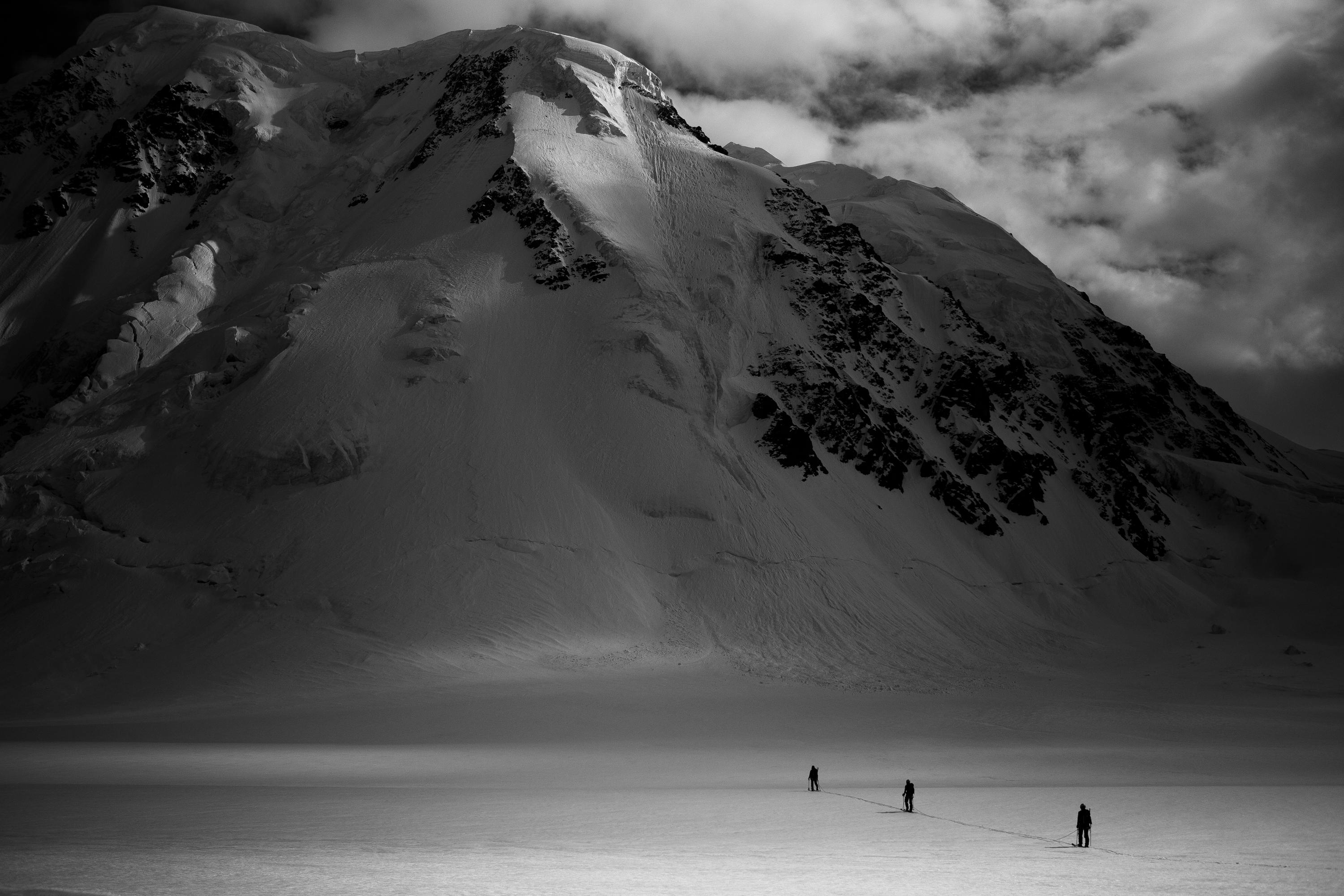 Ski mountaineers in the Wrangell - St Elias Mountains in Alaska. Credit Krystle Wright
Wright writes eloquently in Waymaking: an anthology of women's adventure writing, poetry and art, of her interest in showcasing how the athletes interact with the environment, rather than becoming standing statues in grand landscapes.
A small herd of baby goat and sheep approaching Wright's friend's tent in The Steppe, Mongolia. Credit Krystle Wright
Capturing this spontaneous moment has always been one of my favourite memories.
Check out Krystle's website for more awesome adventures and characters along the way.
Sean Gallagher
Winner of Environmental Photographer of the Year 2019's 'changing environments' prize for his photo showing rising sea levels in Tuvalu, Gallagher is an experienced photojournalist working across the Asia-Pacific region. Documenting environmental and social crises leads him to spend an extended period of time in one place, 'photographing the many different facets of life affected by the environmental issue facing it.' Which, 'in most instances [is] all parts of the community and local ecosystem.'
'Saving Mongolia's Wild Horses' is a success story that keeps the issue in sight. 'Once on the brink of extinction, the Przewalski's horse is now rebounding thanks to the efforts of local conservationists and scientists who are successfully reintroducing the species into the wild.' Those scientists, rangers and local people are also featured in the photo series.
A herd of beautiful Przewalski's horses, cavorting in the Hustai National Park, central Mongolia. Credit Sean Gallagher
Our age of sixth mass extinction gives global significance to the framing of the horses and their precarious existence. Sean continues,
I make images to explore the world and answer my own curiosity.
He hopes these images 'resonate with others and encourage them to think on the issues affecting the people and the ecosystems' he explores.
Follow Sean on instagram for photos that act like windows on to important environmental stories - which you can find in full on his website.
Diana Rebman
Diana Rebman is an award-winning wildlife photographer. Her Cool Drink photo was highly commended by Natural History Museum's Wildlife Photographer of the Year, and available to view in that breathtaking exhibition. It captures a long-tailed tit nibbling the tip of an icicle in Hokkaido, Japan; one in a 'well-choreographed' dance of birds.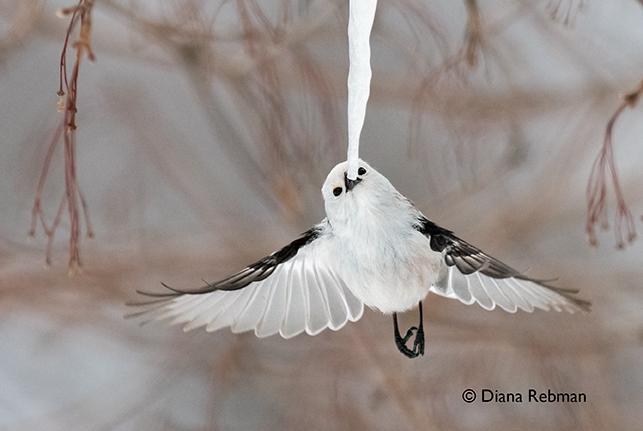 Long-tailed tit in Hokkaido, where winters are freezing and birds must nibble on snow and ice for water. Credit Diana Rebman
In his exquisite poem 'Song', Seamus Heaney writes of 'that moment when the bird sings very close / To the music of what happens.' Irish critic Seán Lysaght finds a definition of "eco-poetry" in that line: 'if eco-poetry is the study of relationships between organisms in the environment, then poetry operates in that context simply by "meaning" the world around us.' This seems to capture the up-closeness of wildlife photography too, and Rebman's is a classic of its field in shooting intimate, detailed portraits of flora and fauna.
The focus on precision can make wildlife photos look like stills from a nature documentary. At their best they feel like an education: a visual fast-track to scientific knowledge. In isolating frames, they could also be accused of presenting animals removed from the present ecological crisis. Pulling the heartstrings but leaving us behind the lens, away from reality.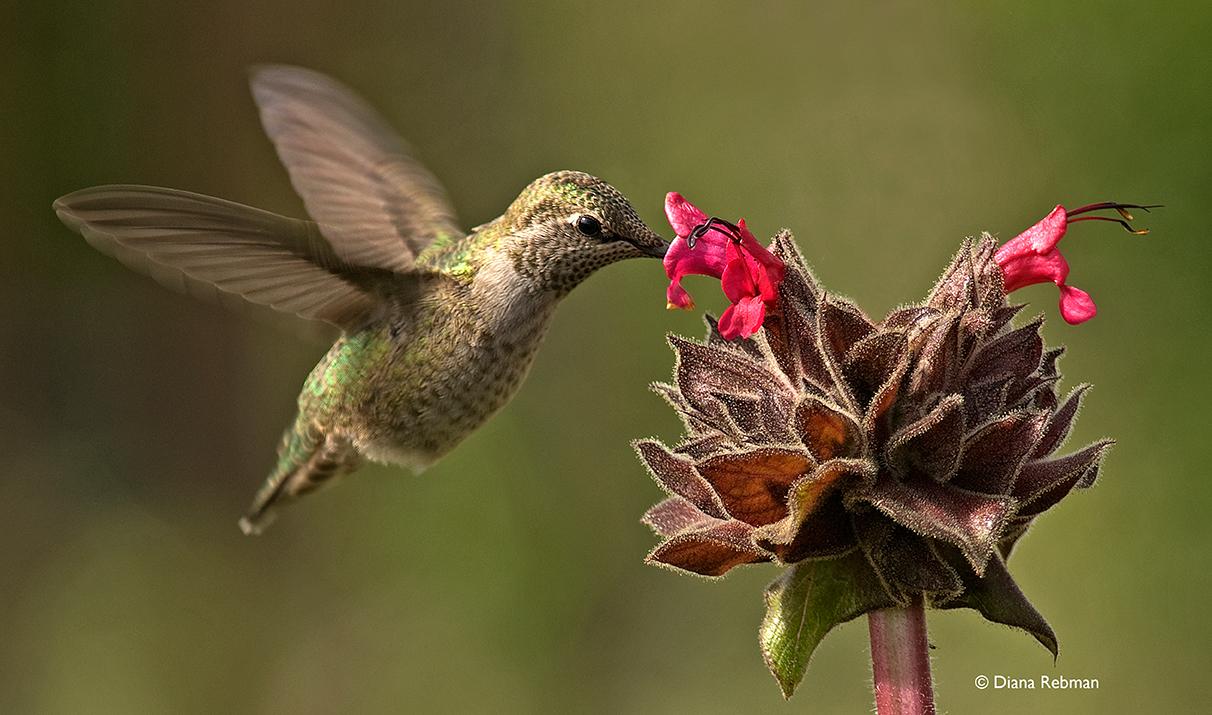 Anna's Hummingbird feeding. Credit Diana Rebman
But Diana's is an art of advocacy, as she focuses on rare and endangered species.
By encouraging an emotional connection between the viewer and the animal, I hope to awaken a concern for the survival of these endangered species as well as an understanding that all animals are sentient beings.
See more marvellous shots on Diana Rebman's website and instagram.
Dr Nibedita Mukherjee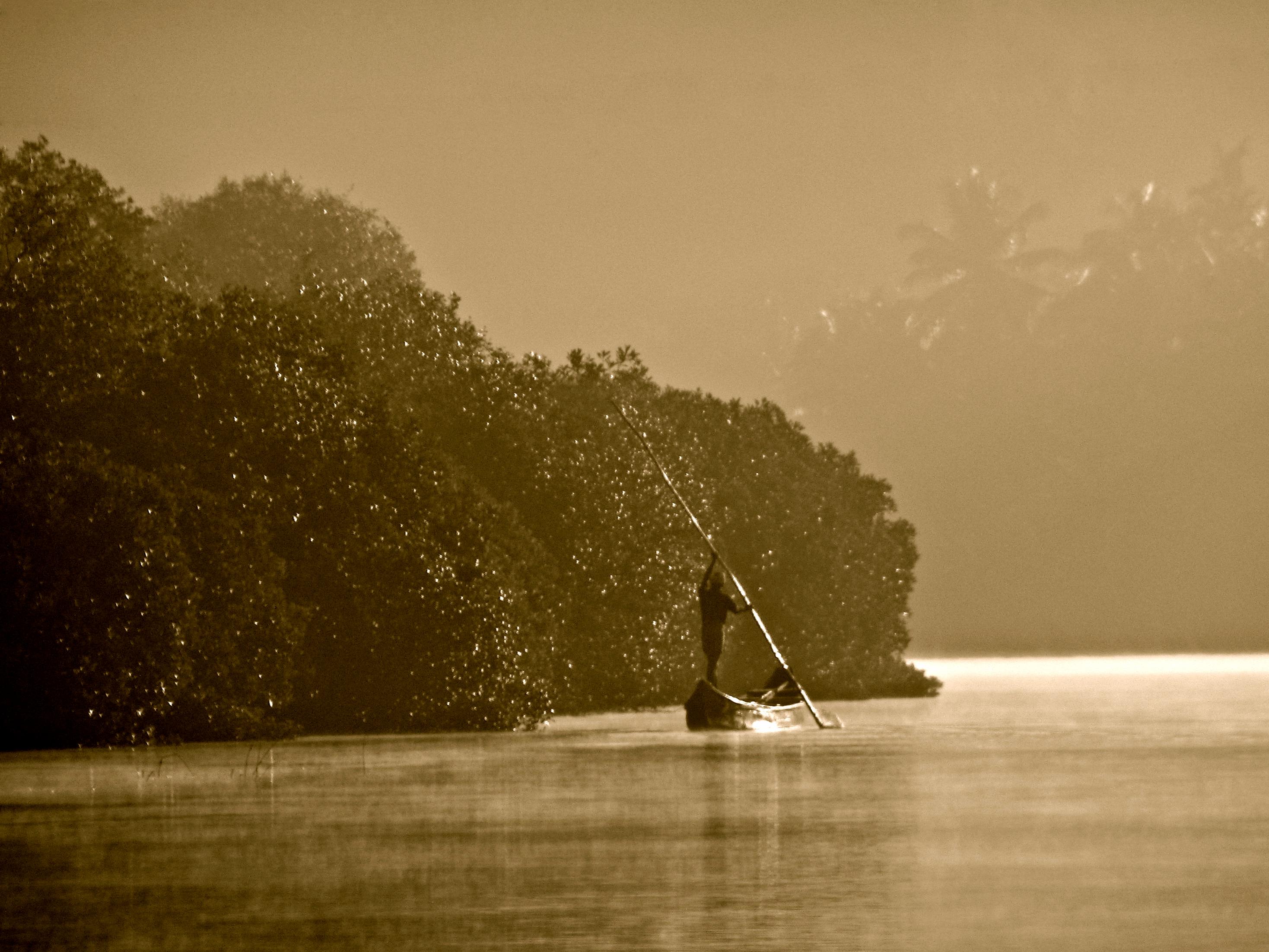 A fisherman amongst the mangroves in Kerala, India. Credit Dr Nibedita Mukherjee
Dr Nibedita Mukherjee is Co-chair of the Global Environmental Outlook (GEO) for Youth produced on the UN's Environment Programme, and a prominent conservation researcher. Mangrove ecosystems are a speciality, and the above photo was taken en route to a research site in Kerala, India. Man in the Mangrove captures a serene moment of a traditional fishermen immersed in river and forest. It was a deserved winner of the British Ecological Society photography competition, 2018's best take on how people are part of the global ecosystem, not separate from it. For an in-depth look at how a healthy planet equals healthy people, check out Dr Mukherjee's section on biodiversity policy in the GEO 6 report.
Jen & Sim Benson
Authors Jen and Sim Benson run, climb, mountain-bike and swim all over Britain and further afield, using photography to document their adventures as they go. Raising two 'free-range children' is an evolving adventure for the whole family, as the kids have been taken up mountains and over moorland since they were tiny babies.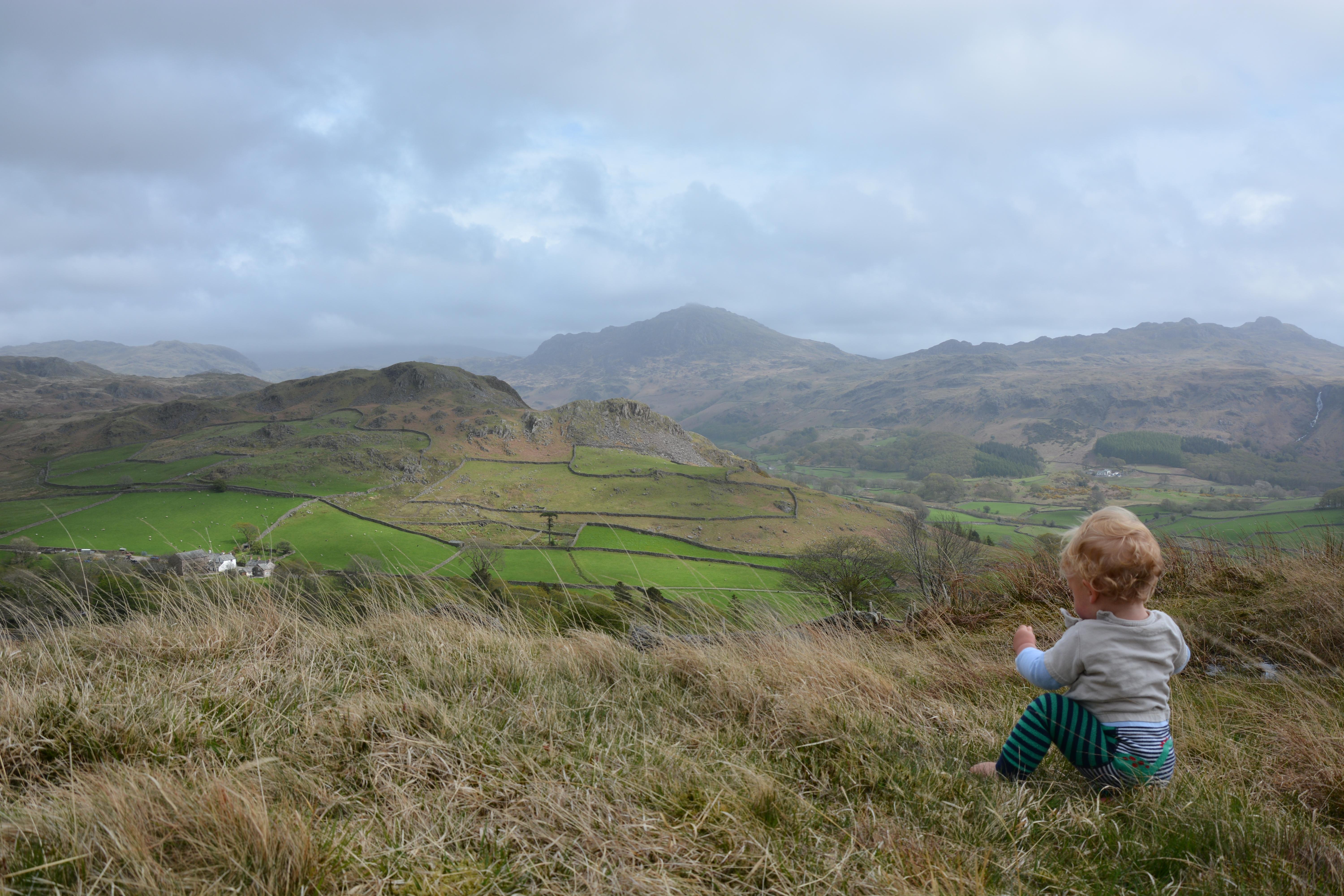 Jen and Sim's youngest child surveys Eskdale, in the Lake District. Credit Jen Benson
Jen loves seeing the children simply being themselves in wild places.
Sometimes, looking at a picture of a small child in a big space it can feel uncomfortable – they look so alone, so vulnerable. And yet they are safer than almost anywhere else.
'Sometimes they don't seem to even see the vastness. When we take them to somewhere beautiful like the mountains they'll play happily in one place, focussing on a puddle or a stick or a pile of stones. They're much less daunted, and also much less challenged by big landscapes than we are as adults. They're happy to continue being themselves within the place rather than somehow trying to conquer it.'
Keep up with Jen and Sim's adventures on their website adventureplaces.co.uk, where you can also view and buy their books.
This is the place...the time is now
Anthrozoology - looking at the interactions between humans and other animals - has obvious emotional appeal. Animals can't pose, so spontaneity and patience are mixed into the magic, reminding us to consider the temporal nature of photos as well as adventure places.
Art critic John Berger wrote of the intricacy of crossing paths and crossing energies (those of birds, insects, mammals, spores, seeds, lichens, worms, trees etc) in Jitka Hanzolvá's forest photos, and it's a wonderful way into the time frames of eco photography. Recalling us to the longer, magisterial time of the mangroves (and all they support) in Mukherjee's photo, and the time of children in the Bensons' family snap. Can we look at these pictures in the same way as the McCartney's family life, when questions of intergenerational justice and earthly inheritance are to the fore?
Can we retain our childish joy and protect rather than conquer?