Nature
Boris' chop-down in lockdown
HS2 Rebellion Bat Action calls out HS2 wildlife crimes
Today, Friday 29 May, HS2 Rebellion is holding a day of socially distanced synchronised bat actions along the HS2 line to highlight the thousands of potential bat roosts that are being permanently destroyed, and the subsequent death sentence for bats and other wildlife. HS2 has cleared hundreds of trees during bird nesting and wildlife breeding season, flouting wildlife laws. Campaigners have witnessed HS2 ripping down trees with bat boxes and birds nests in them, then immediately chipping the evidence.
The action locations are along the HS2 line – including Euston, Colne Valley in Uxbridge, Steeple Claydon and Wendover in Buckinghamshire, and Crackley and Broadwells woods in Warwickshire. There will be bat themed events; from families sharing drawings of endangered bats and wildlife to hang on trees, to people dressed as bats with banners saying: 'Bat Massacre @ Broadwells by HS2', 'Habitat not HS2', 'NHSnotHS2' – with some blocking HS2 compounds to delay the destructive work. The actions are designed to comply with COVID-19 safety measures and legislation.HS2 Rebellion are calling for the government to stop HS2 and direct taxpayers' money to the NHS and prioritise health and the environment.
Matt Bishop, HS2 Save Cubbington and Crackley Woods StopHS2 Campaigner, said:
The worst wildlife crime in Warwickshire's history is taking place now.
HS2's own bat survey confirms that the felling of trees in Broadwells Wood and Kenilworth sites will cause the permanent loss of 1,491 potential bat roosts of eight species of bat, all protected by law. Yet Natural England, charged with upholding that law, has allowed HS2 to be self-policing in accepting a statement from them that 'no bats had been encountered during the works', and has given the go ahead for HS2 to continue felling well into roosting season, while bats are still nursing their young."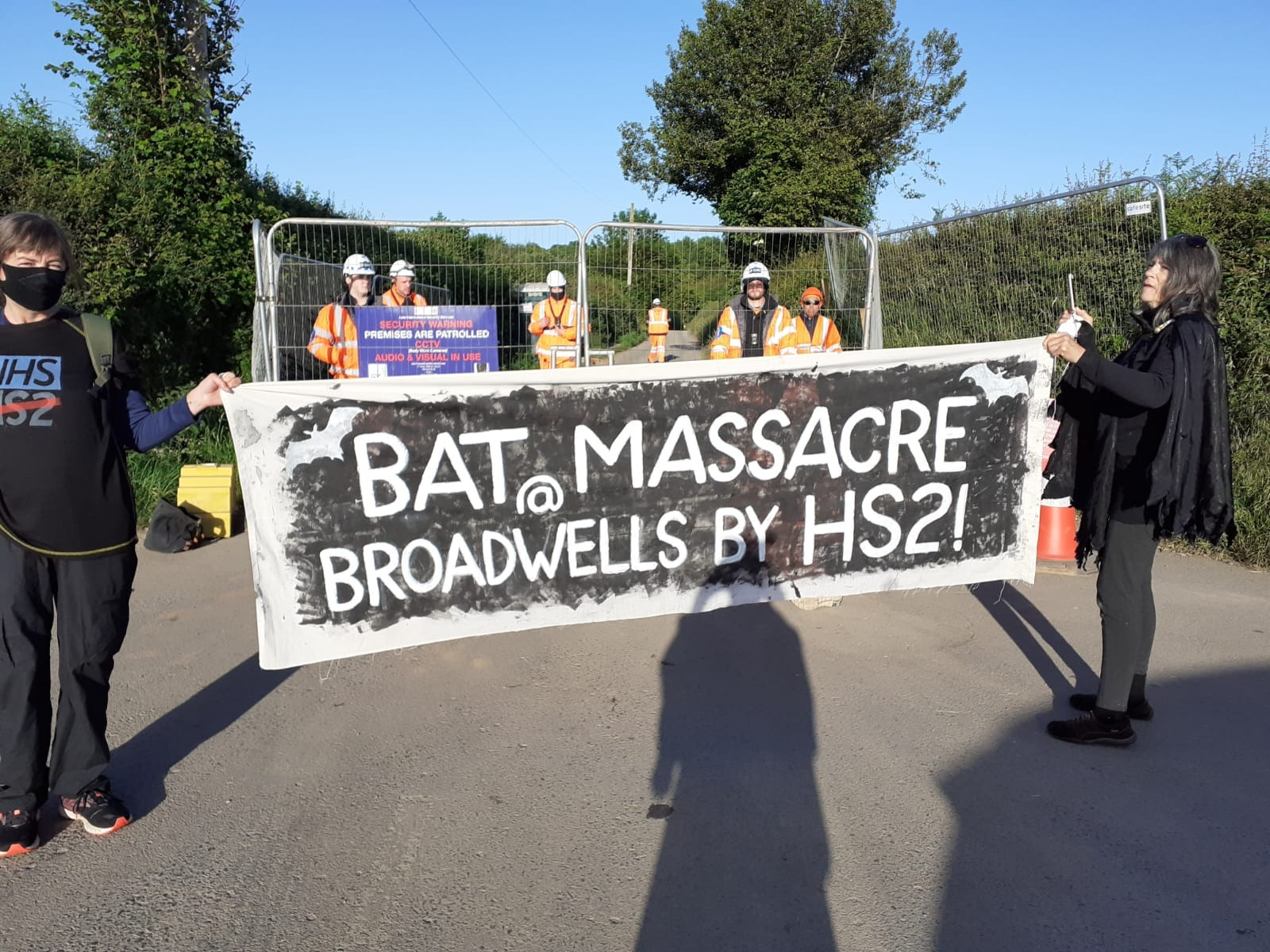 The Government has decided to press on with HS2 in the midst of the covid-19 pandemic, and financial, ecological and climate crises – despite fierce public opposition and criticism from MPs, the Public Accounts Committee and Public Transport Committee. Boris' chop-down in lockdown makes a mockery of his claims to be committed to restoring nature and hitting net-zero greenhouse gases by 2050. HS2 fails both these objectives as it is adding to nature's crisis and will take more than 120 years before its carbon net zero. While the nation has been locking down, and knowing fewer people would be around to witness or protest, HS2 Ltd are felling irreplaceable ancient woodlands as fast as possible, and putting all incriminating evidence through the shredder.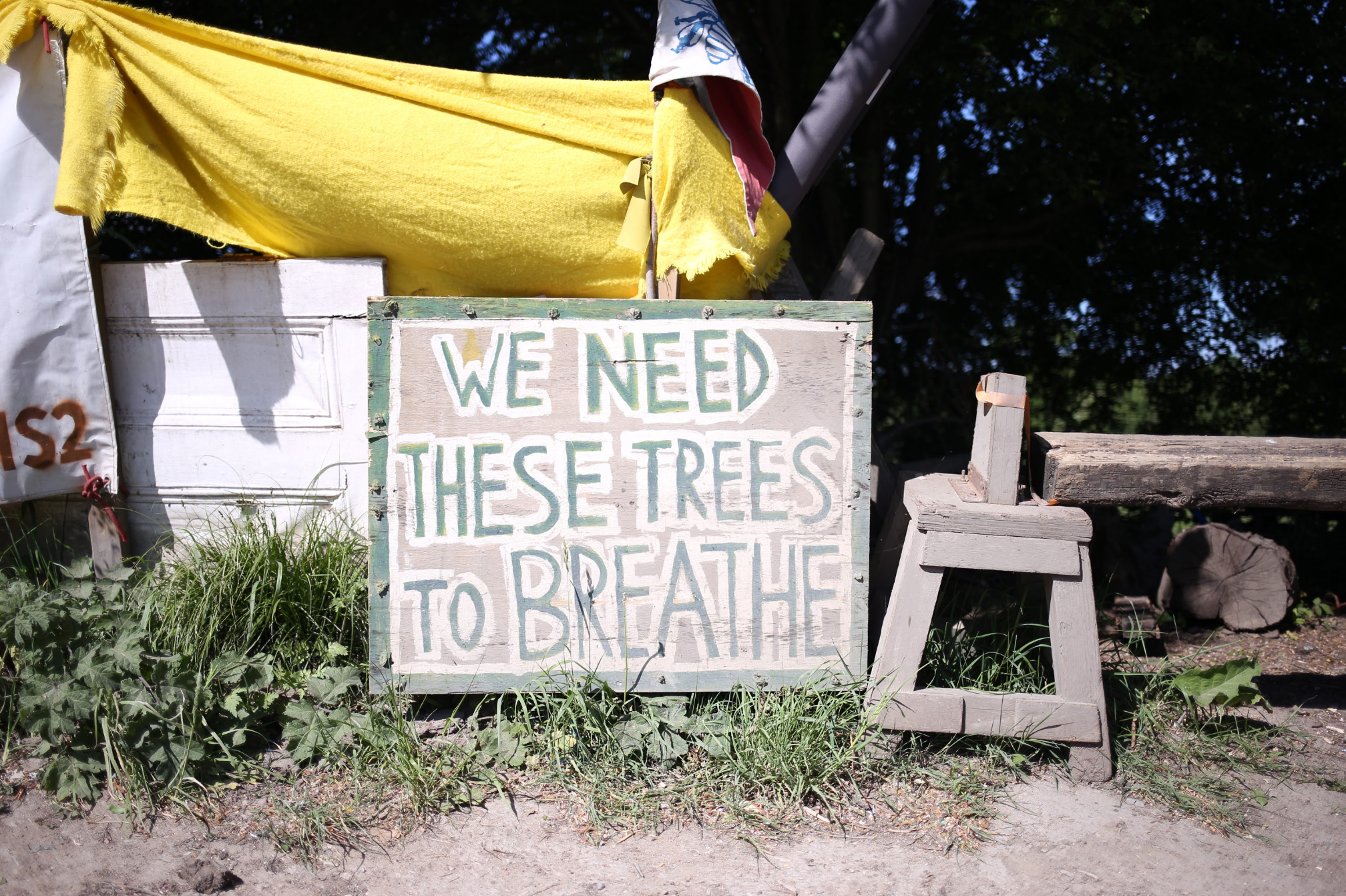 Britain's leading environmental organisations, including the Woodland Trust and RSPB, have warned against felling trees in nesting and breeding season but HS2 Ltd have repeatedly ignored their advice and wildlife laws, while the nation and the media have been focused on the battle against COVID 19.
Joe Nunez-Mino, Director of Communication and Fundraising at the Bat Conservation Trust commented :
Reports we have been receiving about potential disturbance and damage to bat roosts in trees during the maternity season is a cause for concern for BCT. We are investigating the matter as protecting maternity roosts from disturbance at this sensitive time of the year is particularly important.
Please sign the petition - https://petition.parliament.uk/petitions/311642