Nature
Animal lovers, ecologists and celebs support wild boars in Somerset
Rewilding skirmish in the fashionable heart of trendy Somerset could set the tone for a new kind of English countryside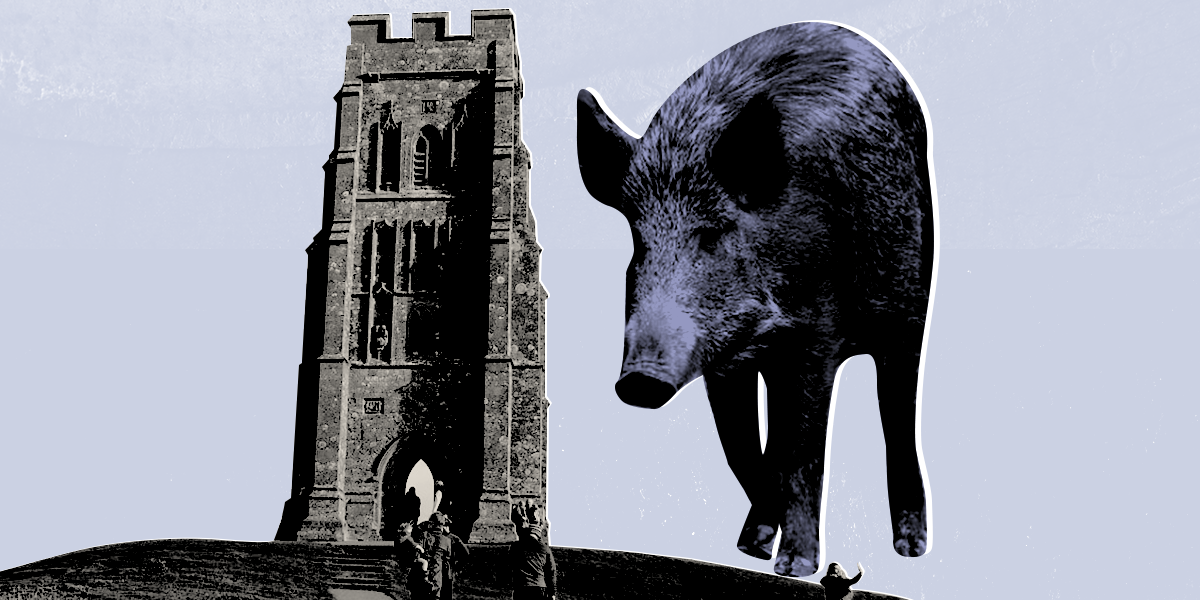 Are wild boar pests or an encouraging sign of English countryside returning to its former glory? As discussions around whether or not marksmen should be called in to eradicate a young population of wild boar outside the trendy celeb hot spot of Bruton in Somerset continue, local celebrities are wading in and calling for the animals to be left alone. It seems that in this once sleepy English backwater, a return to a wilder type of countryside is very much in vogue.
Bruton in Somerset is home to a long list of celebrities and is consistently voted the most desirable place in the UK to live. The quiet muddle of Saxon homes is rumoured to have something in the water and the local network of significant people suggests a new Chipping Norton Set - but the vibe is different. The people in Bruton aren't interested in how big your car is; it is how many trees you plant that really turns heads.
Ben Goldsmith, brother of Conservative MP for Richmond, Zac, moved down to Bruton for a taste of the good life. He has created an ecological farm, raises pigs and chickens and enjoys galloping through the woods near Alfred's Tower - a local landmark. He has planted 80,000 trees on his land. He said:
"The land around here is really coming alive. I'm particularly excited about the Somerset Wildlife Trust's Selwood Forest Living Landscape Project – which seeks to restore the health and abundance of nature across a huge area of South Somerset."
On occasion, wild boar have been spotted around Stourhead and Longleat estates nearby the happening village. Some people like Ben are happy they are there. As the debate hots up, contrasting visions of what the English countryside could become are being articulated by charismatic and influential landowners. Ben has strong opinions on the wild boar situation -
"I am local, and very occasionally I'm lucky enough to find signs of boar activity on my farm. I am opposed to a 'cull' because I sense this really means 'eradicate, now, by whatever means necessary'. The people calling for a cull represent a dwindling minority in our countryside who refuse to share space with wildlife of any kind. It's not just boar but beavers, foxes, badgers, jays, wood pigeons, white-tailed eagles, otters, you name it, for people like the farmer calling for a cull they are a problem to be removed."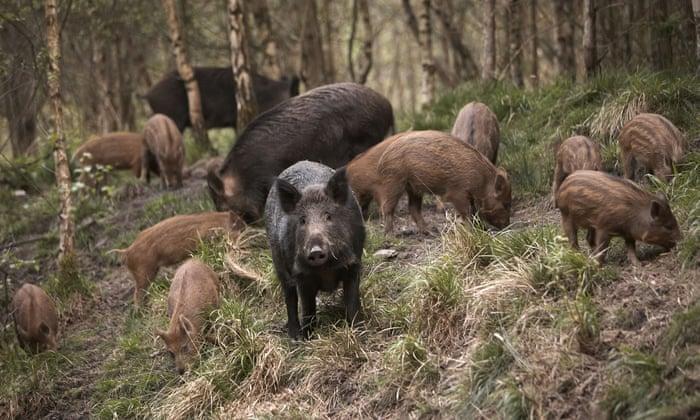 A wild boar family in the UK
Six months ago, Stourhead estate run by the National Trust controversially announced it will cull boar on its estate to howls of local protest from animal lovers. More recently, local farmer Michael Elce claimed that people in the local town of Warminster are at risk from boar marauding across fields from Longleat forest and safari park. This local dispute encapsulates broader discussions about the direction we should go with our countryside and how much wildlife we should share our world with.
Elce's claims that the animals could threaten people in towns is challenged by Derek Gow an ecologist based in the South West. He says -
"Wild boar are a former native species and as such part of Britain's natural ecology. They are widespread in continental Europe and commonly live alongside people even in urban environments. Although issues can arise as a result of their presence they do not pose a significant danger to people."
Rewilding may be an idea whose time has come. Several books have been at the top of the bestseller lists detailing the transformation of industrial farms back to wild lands. Isabella Tree wrote Wilding - the return to nature on a British farm detailing rewilding on The Knepp Estate which has returned to wild nature to the delight of safari visitors. This recovery has taken place against a backdrop of catastrophic loss elsewhere. According to the "State of Nature" report, the UK is a desert compared to our gloriously wild past. Even today, 56% of species in the UK are in decline and 15% are threatened with extinction. Isabella said -
"It is a really important time now to shift people's attitudes to nature and wildlife. Our lives can be greatly enriched by reintroducing wildlife. Our experience at Knepp shows just how many benefits can be achieved - economically, for local communities and also for the environment. But it is vital to have a management plan in place. Too many wild boar – like in the Forest of Dean, where the population has been allowed to expand into the thousands – defeats the object. In small numbers, wild boar are a huge positive for habitat creation. They're a keystone species. But too many, and they can cause problems. If we are to get widespread support for wild boar back in our landscape, we need to reassure landowners, farmers and the public that any problems that arise will be addressed."
Celebrated fashion designer Alice Temperley MBE grew up on a farm near by. She says - 
"I grew up in Somerset and like everyone else I have seen a decline in wildlife. There used to be loads of hedgehogs and hares and now we hardly ever see them. Given the challenges we face - not least climate change - planting more trees and hedgerows and making our countryside a little more wild makes perfect sense to me."
Last month, a landmark report came out that demonstrated that by far the cheapest and most effective way of reversing dangerous climate change is to plant billions of trees. As multiple parts of the word scorch in heatwaves it is hugely encouraging that a pathway to unleashing coolness is so simple and low tech as putting trees in the ground. Surrounding ourselves with new forests offer other benefits too. The positive health impacts of trees are manifold from reducing air pollution to offering recreation opportunities for people. Crucially, forests also provide habitat to many species that are in decline - like wild boar.
Isabella Tree, Derek Gow, Ben Goldsmith and other forward looking conservationists want so see landscape-scale nature recovery on agriculturally unproductive land across the UK and, more controversially, the reintroduction of long lost wild species including: wild boar, lynx, beavers and perhaps even the iconic wolf. In contrast, conventional industrial farmers want to stick to business as usual - using machines and fossil fuels to extract the maximum possible tonnage of crops from large, treeless, mono-culture fields. The two conflicting visions of the countryside are now coming head to head in the dispute about wild boar. What happens to these animals may set an important precedent in the UK and influential people are rallying around for wildlife. David Attenborough recently took to the stage at Glastonbury music festival in Somerset and said -
"There are seven great continents on which we human beings live. Each of them has its own marvellous creatures – birds and mammals, animals of all kinds. Each of them has its own glory, each of them has its own problems."
The united kingdom's biggest extant carnivore is currently the badger. For a new generation of forward looking environmentalists this simply is not good enough. They are looking forward to a future planet earth is which 50% of the land area has been rewilded and once again large animals share the surface of the planet with humanity. This debate about wild boar is fascinating because it is the tip of the iceberg. If we listen to scientists and start a seriously ambitious campaign of tree planting there will be space for much more wildlife. The questions is - will English people's love of nature translate into a willingness to live alongside larger wild animals? This question is coming to a head in Somerset where many of the locals feel we can make room for wild pigs.