Culture
Extinction Rebellion with Christian Climate Action
"Jesus broke the law many times"
October 7th 2019 around Lambeth Bridge. By Empathy Media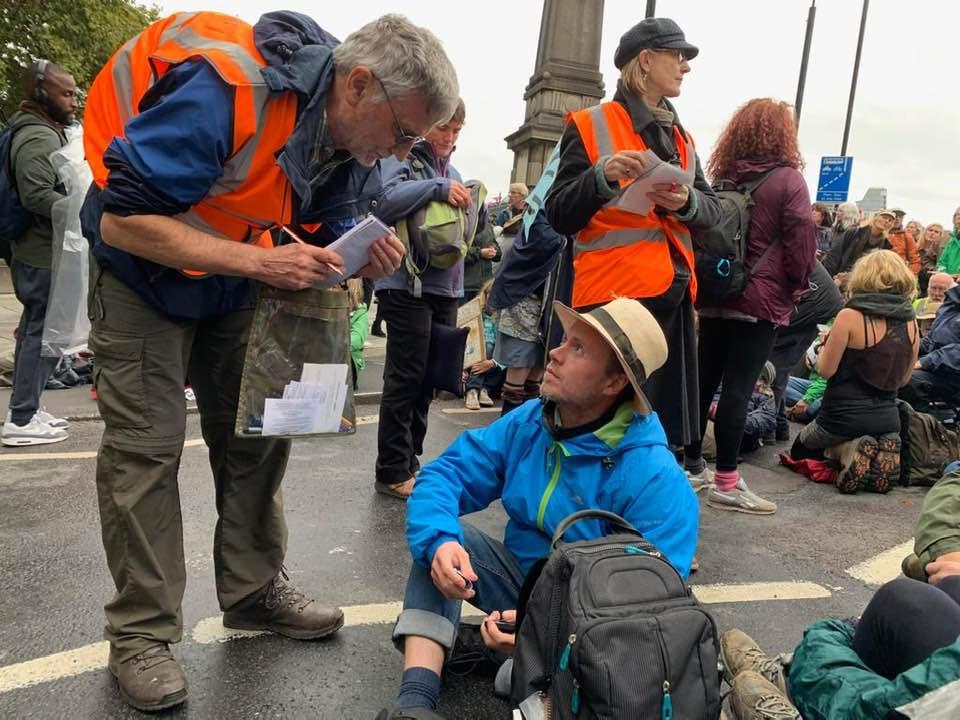 John Hopkins is not part of Christian Climate Action but was arrested on the same day. He said -
"At 5.20pm yesterday I was arrested peacefully at the Extinction Rebellion protest. I was arrested in defiance of a flawed global system I believe will destroy most life on earth unless we ditch our 'business as usual' approach and make radical changes to our lives.
Being arrested is something I never imagined would happen to me.
I was detained alongside two delightful 60+ year old ladies. One was a doctor, the other a farmer. I was in custody for a total of six hours. The arresting police officers were pleasant and couldn't believe how 'nice' us 'prisoners' were.
Other than the road blocks, the jails across London were totally jammed. Disruption. This is the real purpose of this non-violent protest. My detaining officer was surprised when we revealed the movement's tactics are based upon successful historical revolutions. You see, when infrastructure is clogged-up it's proven that politicians are forced into swift, and often dramatic, legislative change. The officer suddenly understood why so many 'nice' people were being arrested.
I am exceptionally lucky. I have a great life. Two healthy children, an amazing wife who supports me. A warm house, family and friends. A fulfilling career I have struggled hard to build. But there are many people - true heroes far less privileged than me - out in the world making daily sacrifices on our behalf. Like the over-stretched police to whom I apologised for any inconvenience.
At worst, I will go to court and receive a small fine for my offence. My six hour arrest was, in retrospect, a minor inconvenience in my life.
The truth is, once the nerve-wracking moment of arrest was over I found the subsequent experience overwhelmingly positive and profoundly moving. As I lay locked-up alone in my Brixton jail cell, rid of all my possessions, I felt a sense of liberation that is hard to describe. By truly stepping out of my comfort zone I was welcomed by a sense of accomplishment that far outweighs any career achievement. Perhaps for the first time in my life I had actually done something mature. Making the effort to stand up, or in this case sit down, for something I believe in: our childrens' future.
It feels strange to say it but being arrested for this cause is the most honourable thing I have ever done. But I'm not searching for praise, nor am I saying arrest is the only solution... Let's listen to instinct, summon our courage and get creative about change. As the saying goes: 'Do one thing that scares you, everyday'."
Also by Empathy Media -